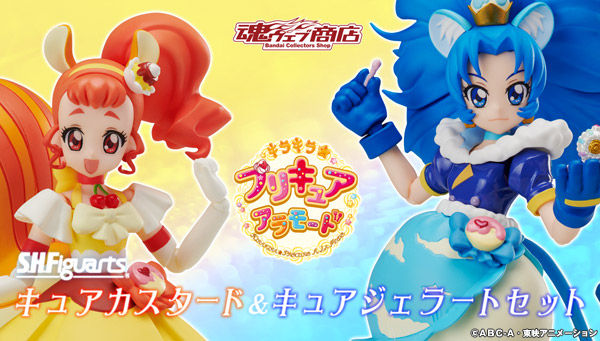 Translate Description:
From Kirakira ☆ Pretty Cure Ara Mode, Cure Custard and Cure Gelato appeared in sets!
Facial parts and wrist parts for various exchanges are attached, and it is possible to decide an idle pose or an action pose at battle.
further! As a bonus parts, Kirarin and Piccario are also included.
Set Content
· Cure custard body
· Cure custard exchange facial expression parts 3 kinds
· 5 kinds of left wrists for exchanging cure custard, 6 types of right wrists for replacement
· Sweet Pact for Cure Custard
· Candy rod for cure custard
· Complete pedestal for cure custard
· Cure gelato body
· Cure gelato exchange facial parts 3 kinds
· Cure gelato replacement wrist 5 each kind on left and right
· Sweet Pact for Cure Gelato
· Candy rod for Cure gelato
· Complete pedestal for Cure Gelato
· Guitar effect
· Kirarin
· Piccardio
· Sweet · Two · Wonderful · Ala Mode PET Part ② + Hook
· Sweet · Two · Wonderful · Ala Mode PET Part ③ + Support
Product size:

Tall: 130~145

mm / 5.1~5.7"inch

Material:

PVC, ABS