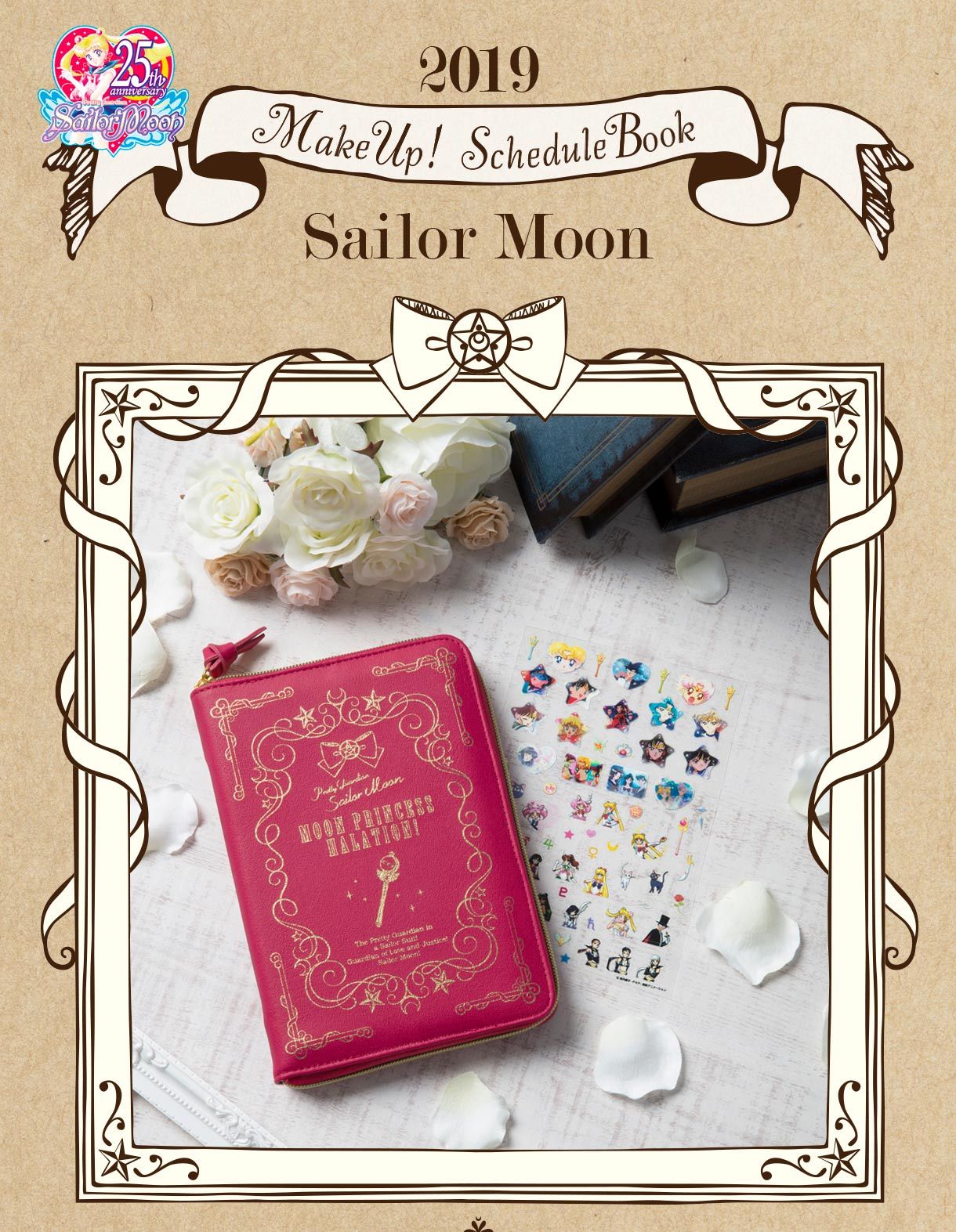 Translate Description:
This product is a 2019 year makeup notebook (all 2 kinds) with a cover filled with the charm of Sailor moon with the concept of "Adorable cute". The 2019 edition, with a convenient "schedule sticker" to paste and peel off, will help schedule management of girls in adults.
Cover is an elegant design that you can feel casual "Sailor Moon-like", use materials that are familiar to the hands with luxury. Moreover, it is also suitable for business and everyday use with the function that can store pocket and pen for entering business card.
The overall size, including the cover is about W145 × H 200 mm, with a zipper so it's a slim type that you can carry the contents firmly and carry it compactly.
Notebook This volume has a lot of volume of 192 pages, with a monthly page (January 2019 - March 2020) and a weekly page (January 2019 - December 2019) with a memo page .
We used valuable animation scenes abundantly and finished in a design that feels exciting and nostalgic.
The cover is expressed in classy gold stamping on a cherry-pink color drifting luxuriously, and it delivers a delicate but gorgeous atmosphere.
On the monthly page, there are plenty of active scenes of the Sailor fighters. In addition to Sailor 10 fighters, the 2019 edition also posted "Sailor Star Lights" which is an idol group and a Sailor fighter who appeared in anime "Sailor Moon Sailor Stars".
We used the opening image of 'Sailor Moon R' of broadcasting at the time of the broadcast gorgeously for 53 pages on the weekly page. It is a notebook filled with the charm of Sailor Moon that you want to find out the scenes of your favorite scenes and memories unexpectedly.
In addition, "Schedule Seal" (W120 × H175 mm) is a size that can be stored in a pocket inside the notebook, stick it with a weak adhesive type of transparent material and stick it off. "Sailor Moon pattern" "Icon pattern" one each one is attached.
【Set content】
A notebook ... 1 book
Schedule seal ... 1 sheet
【Product Material】
Cover ... Polyurethane · Polyester
This book ... paper
Seal ... PET
Age of target
15 years and over
【Size】
Cover ... W145 × H200 × D25 mm
This book ... W120 × H180 × D 10 mm
Seal ... W120 × H175 mm
【Country of origin】
Cover ... China
This book · seal ... Japan