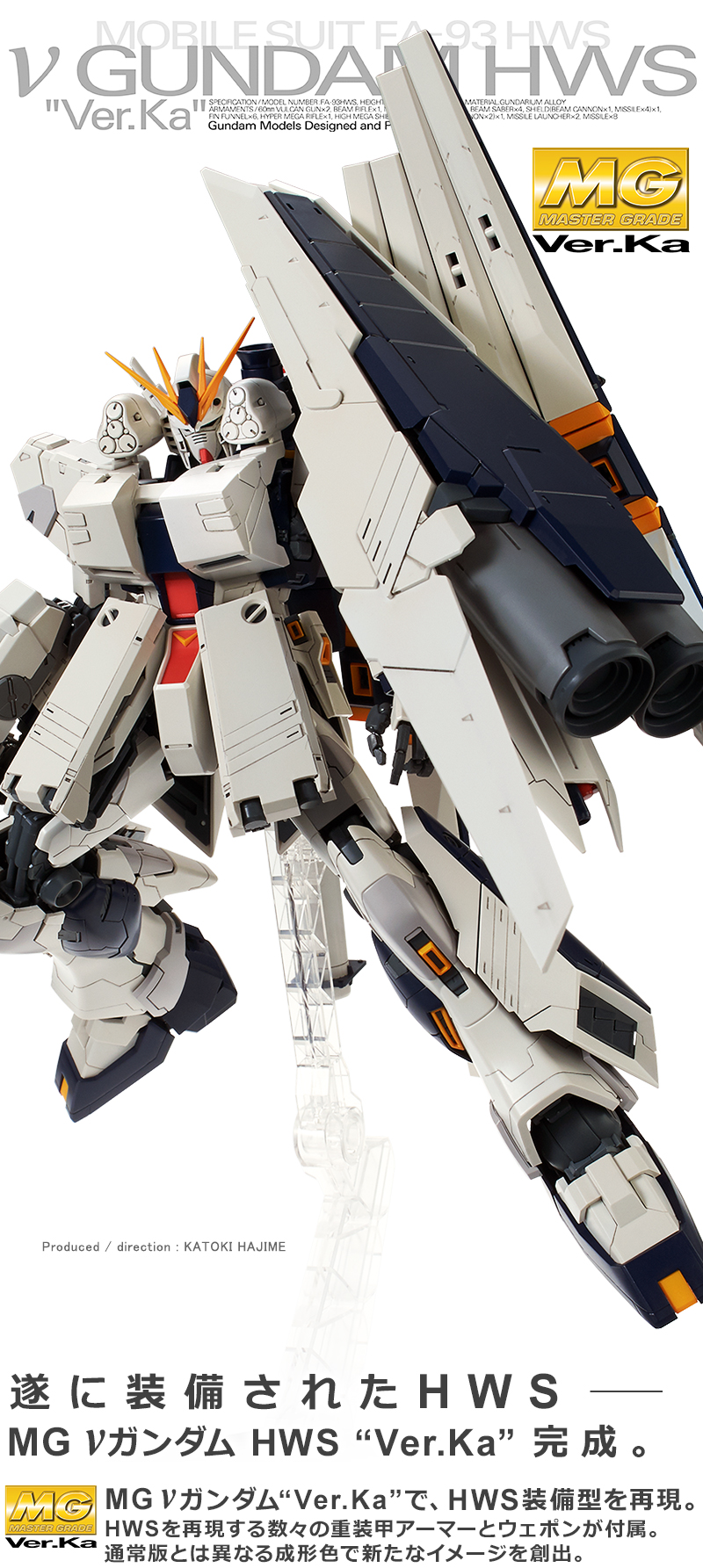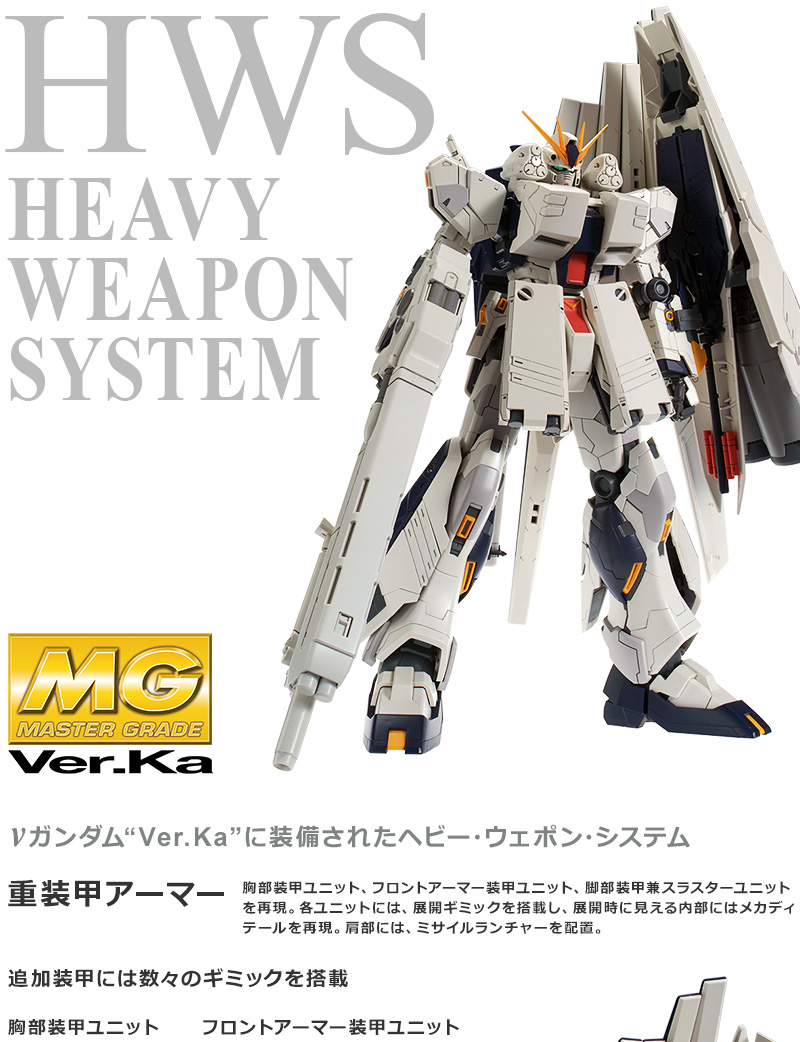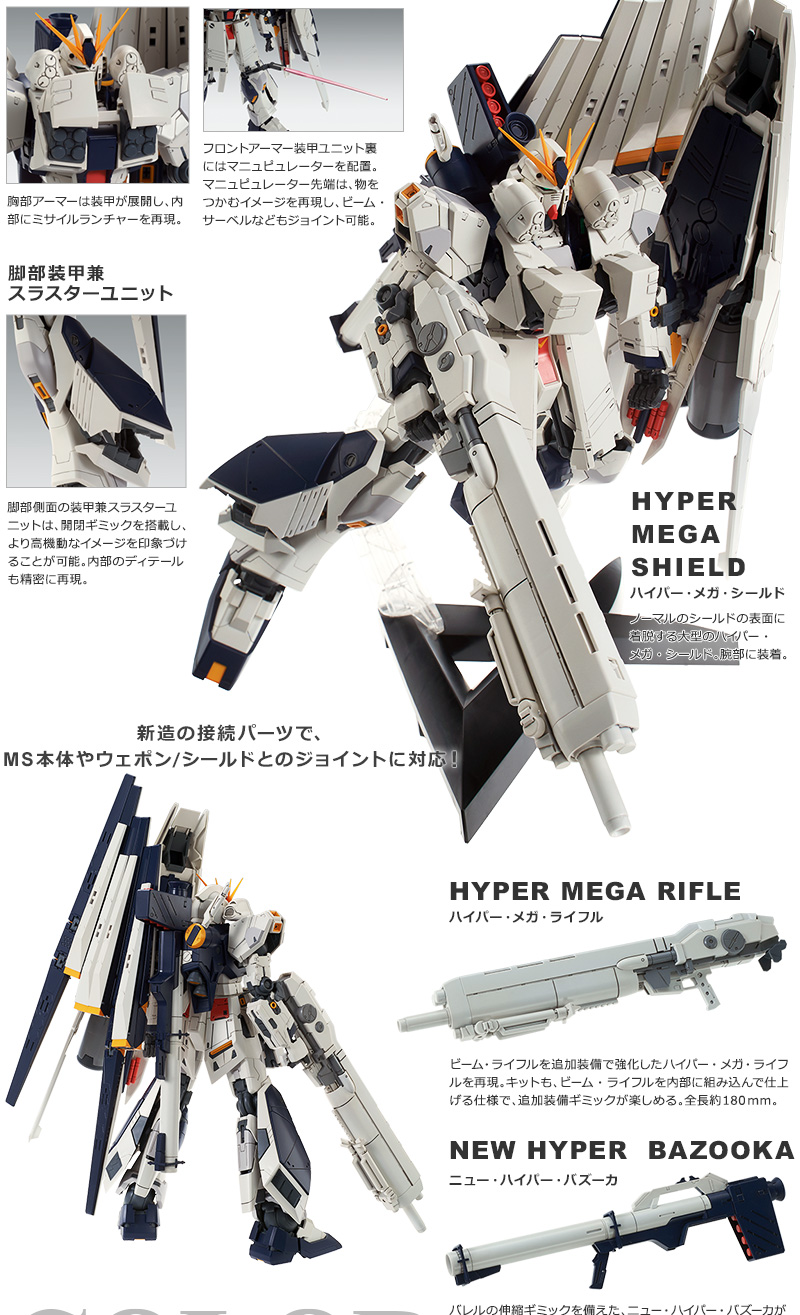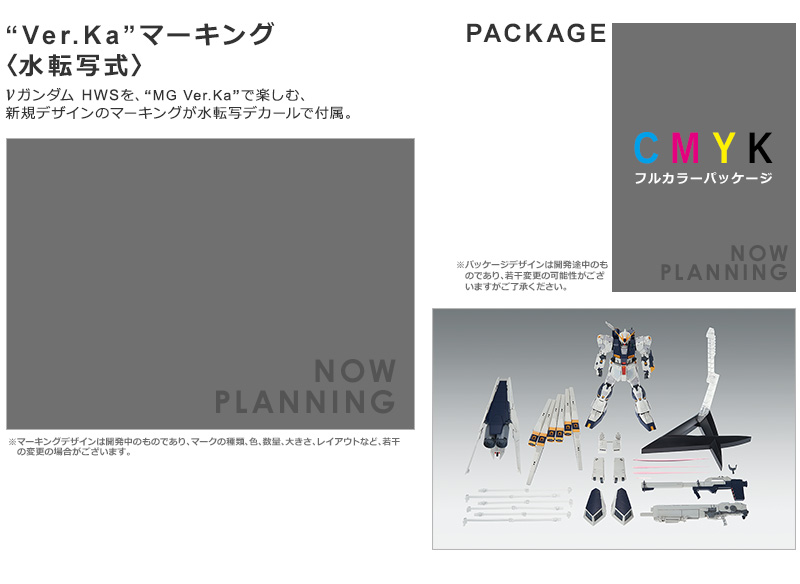 Translate Description:
----- Finally equipped H W S. MG ν Gundam H W S "Ver.Ka" is completed. -----
MG ν Gundam "Ver.Ka" reproduces the HWS equipped type.
ν Gundam HWS equipped type is commercialized in the master grade "Ver.Ka" series produced by Mr. Katoki · Hajime.
Numerous heavy armor armor and weapon are included to reproduce the heavy / weapon system.
Create a new image with a different molding color than the regular version.
● Heavy Weapon System Equipped in ν Gundam "Ver.Ka"
Chest armor unit, front armor armored unit, leg armor and thruster unit reproduced. Each unit is equipped with a deployment gimmick and reproduces the mechanical detail inside it visible at the time of deployment. Arrange the missile launcher on the shoulder.
It is a new connection part, it corresponds to the joint with MS body, weapon, shield.
· Heavy armor armor
A number of gimmicks are mounted on the additional armor. The chest armor is developed by the armor and reproduces the inside of the Missair.
Front armor Armor unit Arrange the manipulator on the back. The manipulator tip reproduces the image of grasping objects,
Beam · saber etc. can also be jointed.
The armor and thruster units on the side of the legs are equipped with opening and closing gimmicks, and it is possible to impress a higher maneuverable image.
The details of the interior are precisely reproduced.
· Hyper · mega · shield
A large high mega shield attaching to and detaching from the surface of the normal shield. Attached to the arm.
In case
· Hyper · mega · rifle
Reproduce hyper · mega · rifle with beam rifle enhanced with additional equipment.
The kit also features a built-in beam rifle and finishes, you can enjoy additional equipment gimmicks. The total length is about 180 mm.
· New Hyper · Bazooka
New Hyper · Bazooka with barrel stretch gimmick is included. In the storage form, it can be carried on the backpack.
● New impact created by color change
Mr. Katoki · Hajime adopted the forming color of the image image.
For the white, navy blue, yellow and red parts, we use the molding color of the warm color which is different from the normal version.
The color of the psycho frame reproduced with the condensing material is changed to light blue, suggesting a different look with a different taste.
● "Ver.Ka" marking <Water transfer type>
ν Enjoy Gundam HWS with "MG Ver.Ka", marking of new design comes with a water transfer decal.
● "Ver.Ka" full-color package
Attached armed: hyper · mega · shield / hyper · mega · rifle / new hyper · bazooka / beam · saber
-----------------------------------------
1/100 scale assembly plastic model
Target age: 15 years old and over
Main product material: PS · PE · ABS · PP
· Adhesive is not used for assembly
-----------------------------------------
NOTE: This product is large parcel, Ships by Japan post EMS.