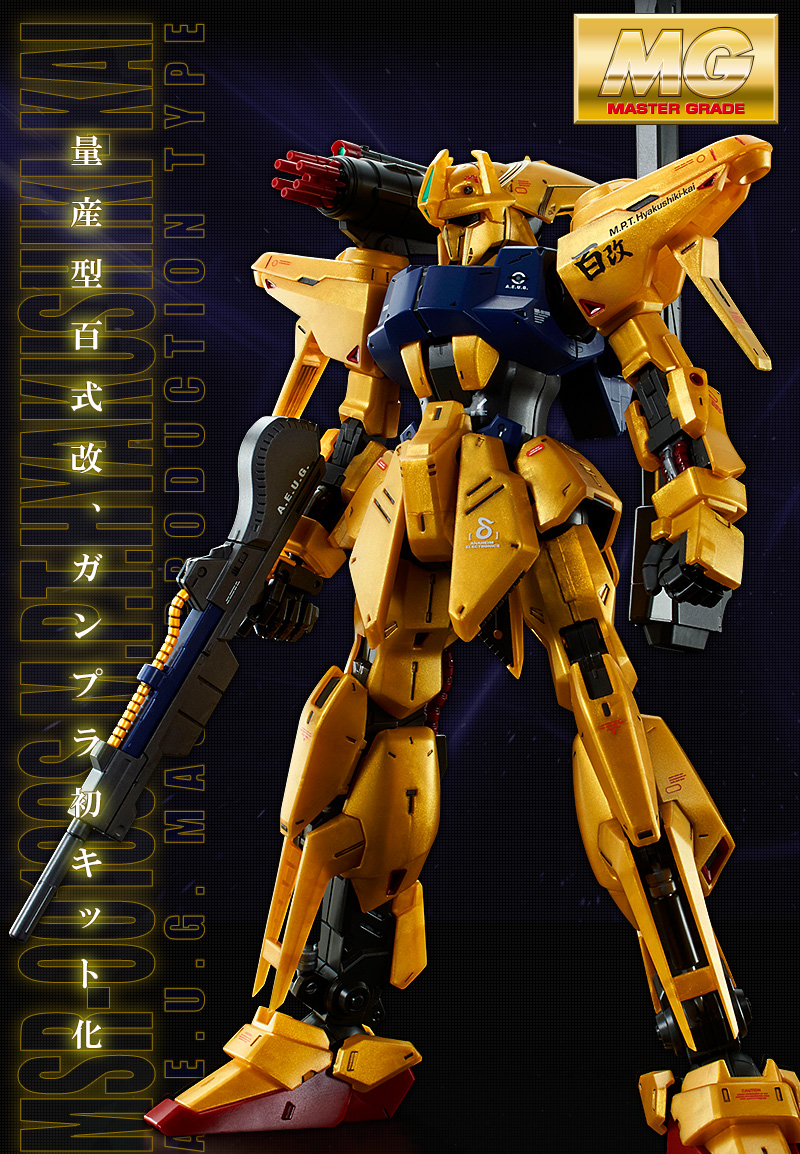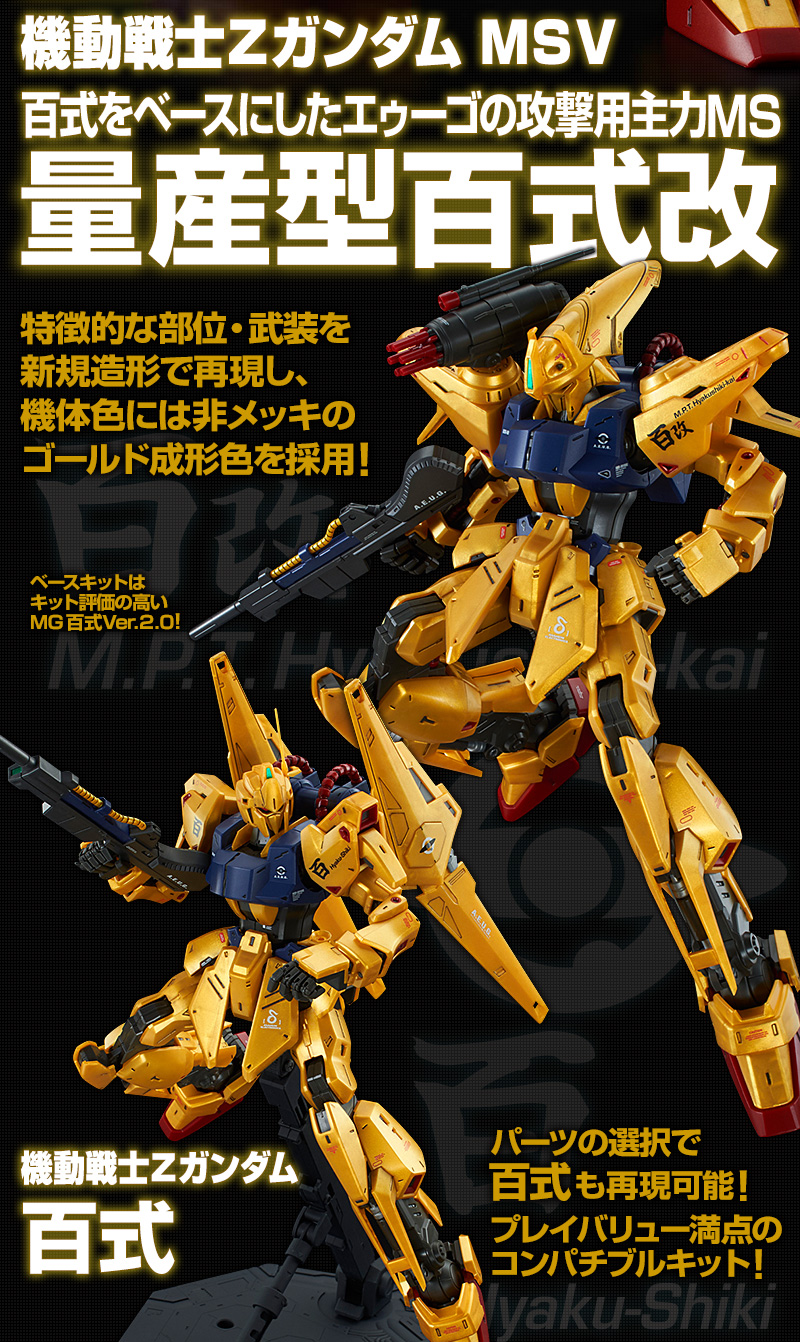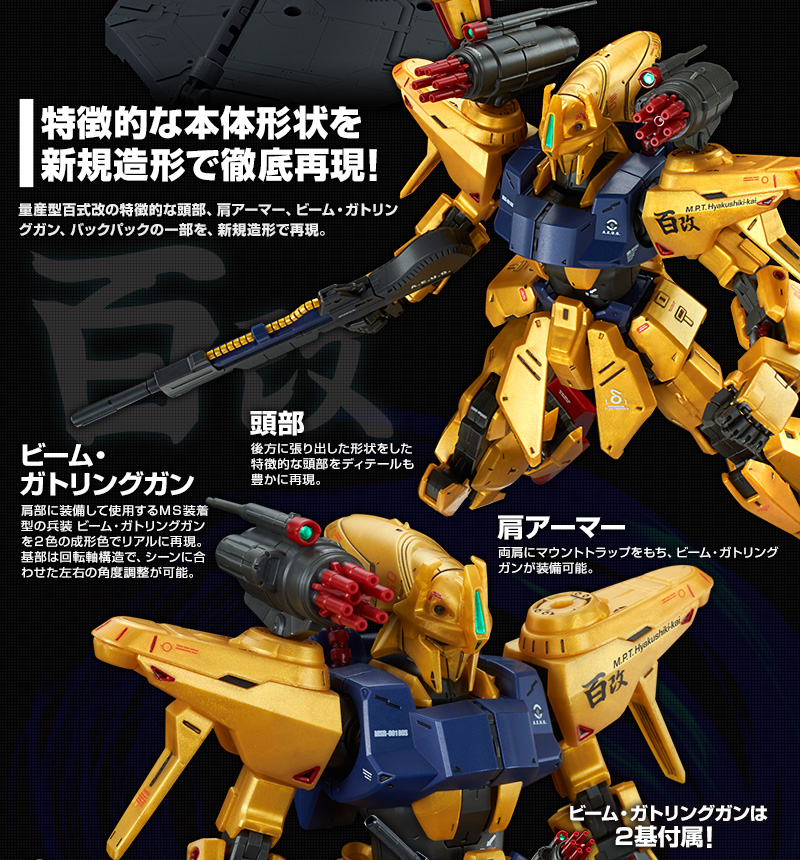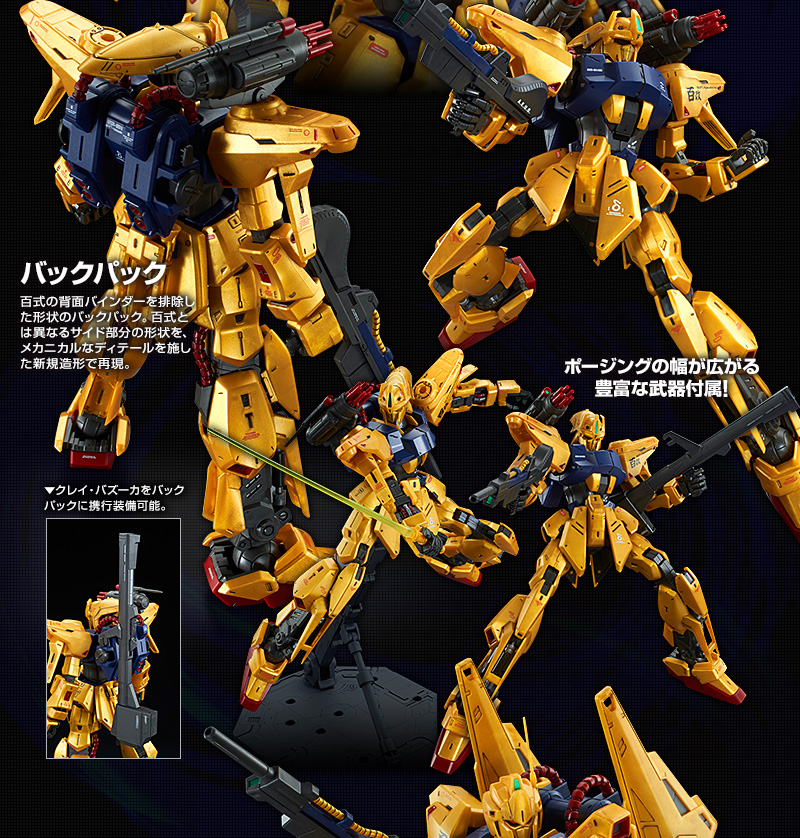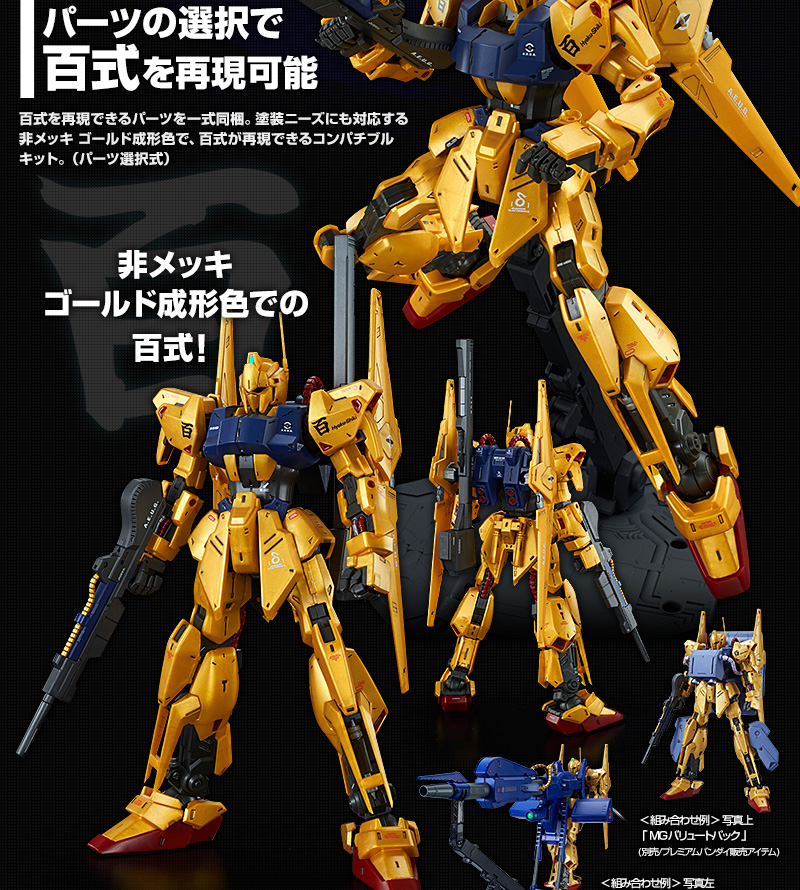 Translate Description:
Mass production type Hundred style reform, Gunpla's first kit formulation!
With the molding color of non-plated gold, it appears as a compatible kit that can reproduce 100 formulas too! !
"Mobile Suit Z Gundam" From MSV, Eugo's attack type main type MS based on Hundred Ceremonies and Mass Production type 100 style reform,
Commercialized in master grade series.
Reproduce characteristic parts · armed with new shaping, adopt non-plating gold molding color for machine color!
You can reproduce 100 formulas by selecting parts! ! In case
● Characteristic part · Armament thoroughly reproduced!
Production mass production type head, shoulder armor, beam · gatling gun, part of backpack are reproduced by new modeling.
Head
The detail head also reproduces richly the characteristic head which had a shape protruding towards the back of the head.
· Shoulder Armor
With mount traps on both shoulders, beam / gatling gun can be equipped.
· Beam · Gatling gun
Equipped with a shoulder to use MS mounted weapon beam · Gatling gun realistically reproduced with two color molding colors.
The base is a rotating shaft structure, it is possible to adjust the left and right angle according to the scene.
Two Beam · Gatling guns are included, and it is possible to equip both shoulders.
· Backpack
A back pack of a shape excluding the back binder of one hundred ceremonies.
The shape of the side part different from the one hundred ceremony is reproduced by a new modeling with a mechanical detail.
The backpack can be equipped with the attached Clay · Bazooka.
● 100 parts can be reproduced by selecting parts!
Enclosed a set of parts that can reproduce 100 formulas.
A compatible kit that can reproduce 100 formulas in non-plating gold molding colors that also correspond to painting needs. (Part selection formula)
- Mass-production type hundred style reform, original marking corresponding to hundred ceremonies, comes with a water transfer decal!
● Extensive range of posing comes with a wealth of weapons.
● Mass production type Baekje, both hundred ceremonies, with "mega · bazooka · launcher" (sold separately), "baluart pack" (sold separately)
Corresponds to the joint.
Attached armed: Beam · Gatling Gun / Beam · Rifle / Beam · Saber / Clay · Bazooka
-----------------------------------------
1/100 scale assembly plastic model
Target age: 15 years old and over
Product material: PS · PE
· Adhesive is not used for assembly
-----------------------------------------