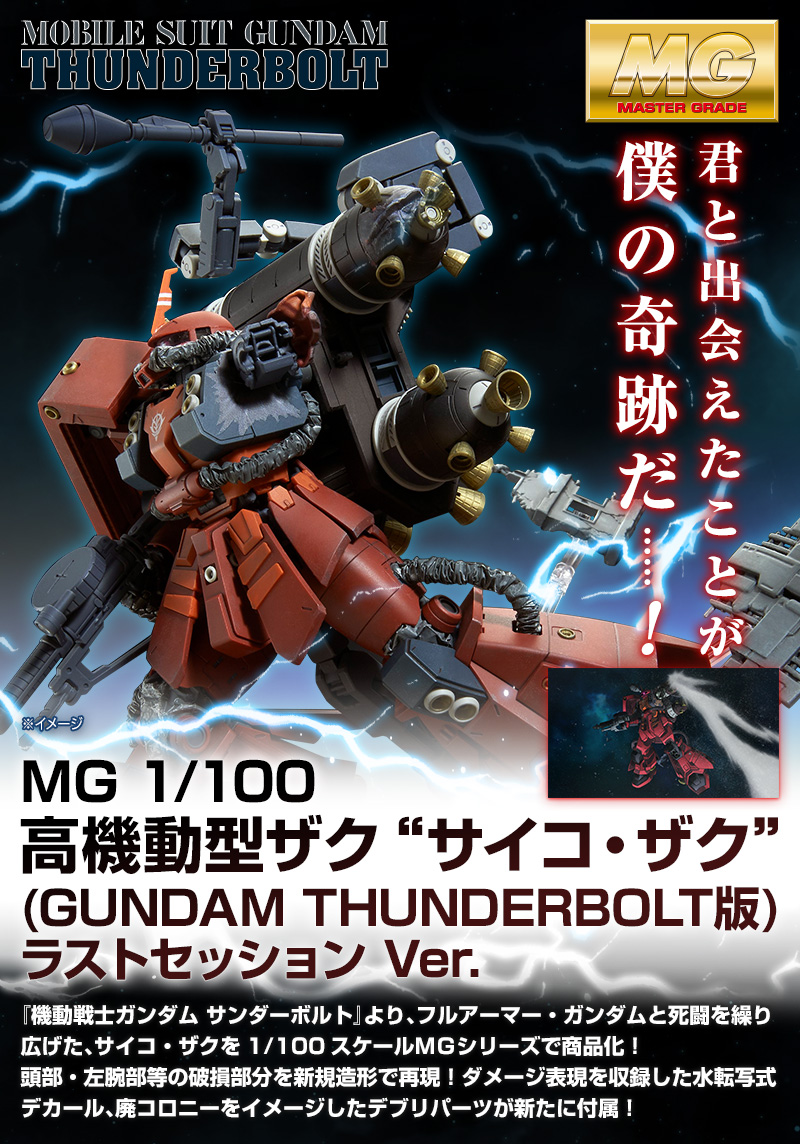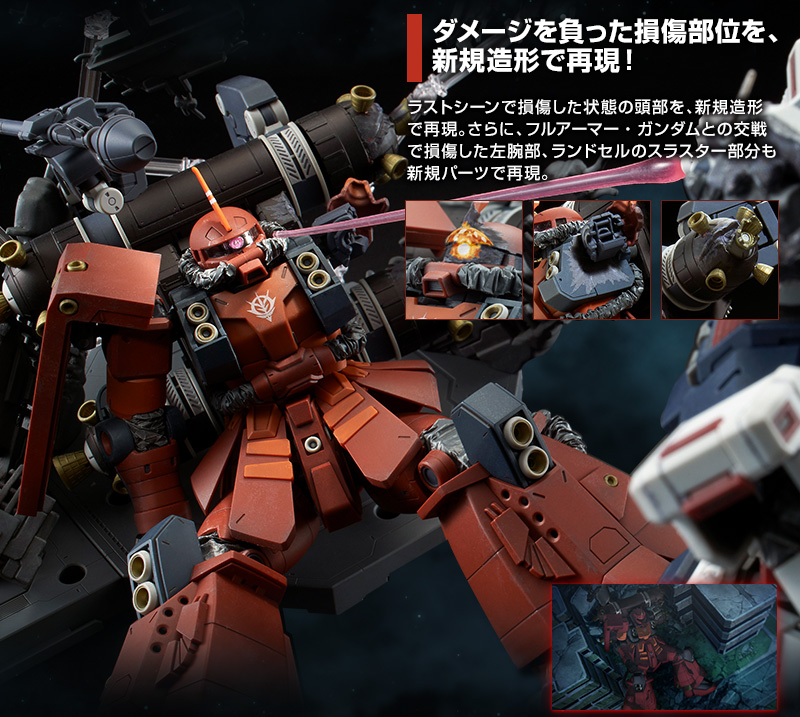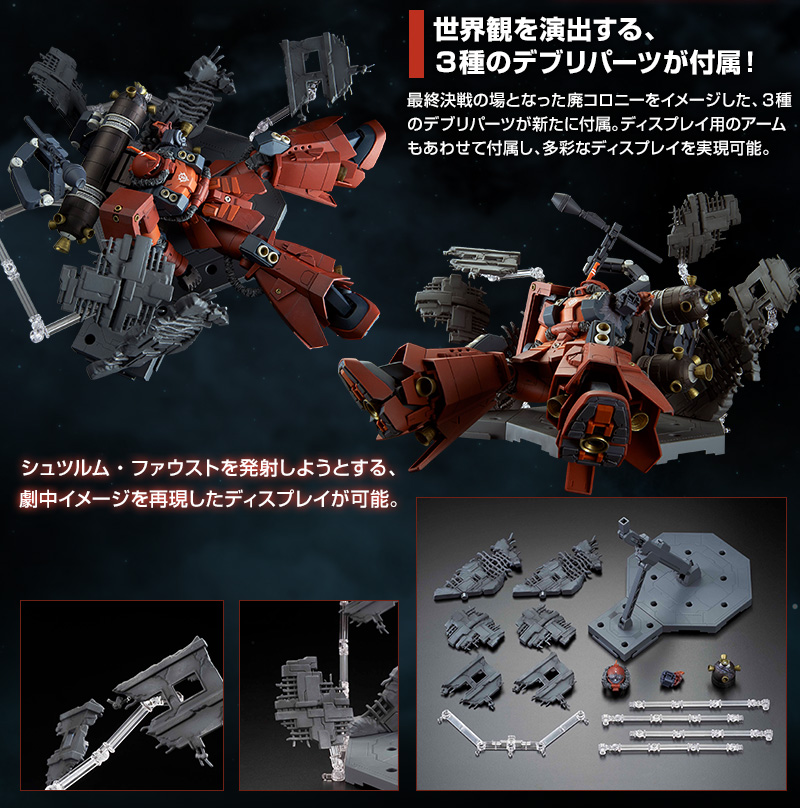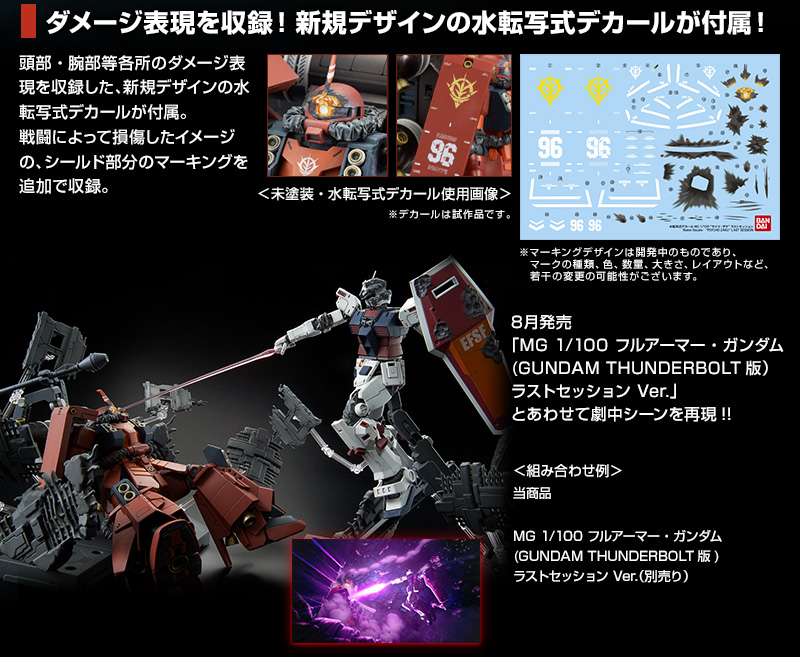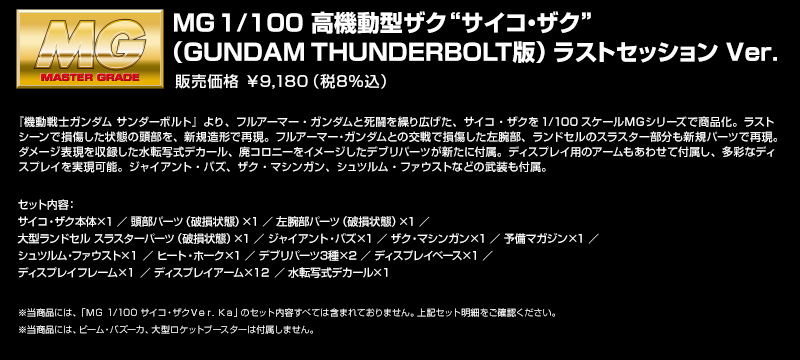 Translate Description:
---------------------
My encounter with you is my miracle ... ...!
From "Mobile Suit Gundam Thunderbolt", a set that can reproduce Psycho Zaku at the final battle fight appears!
-------------------
From "Mobile Suit Gundam Thunderbolt", he fought deadly with Full Armor · Gundam,
Psycho-Zaku commercialized in 1/100 scale MG series! Reproduce damaged parts of the head · left arm etc. by new shaping! In case
Water transfer type decal containing damage expression, debris parts that imagined waste colony are newly attached! In case
● Damaged parts damaged by new shaping!
The head in the state damaged in the last scene is reproduced by new modeling.
In addition, the thruster part of the left arm part and the school bag which was damaged in the battle with full armor · Gundam is also reproduced with new parts.
● Directed world view, 3 types of debris parts included!
Three types of debris parts were newly attached, which imaged the waste colony that became the site of the final battle.
Arms for display are also included, enabling a variety of displays.
Display that reproduces the image during play can be performed, trying to fire Sturm Faust.
- Damage expression recorded! A water transfer type decal of a new design is attached!
A water transcription decal of a new design which included damage expression of various parts such as a head and an arm is attached.
Additionally recorded marking of shielded part of image damaged by battle.
● Various arms of Psycho-Zaku are included!
Armed with giant buzz, Zaku machine gun, Sturm Faust etc are also included!
■ Combine reproducing the scene in the play! ■
"MG 1/100 Full Armor · Gundam (GUNDAM THUNDERBOLT Edition) Last Session Ver." (Optional)
Along with you can reproduce the image in the play!
Set content:
Psycho · Zak body × 1
Head part (broken state) × 1
Left arm part (broken state) × 1
Large-sized, round-cell thruster parts (broken state) × 1
Giant Buzz × 1
Zaku machine gun x 1
Preliminary magazine × 1
Sturm Faust × 1
Heat · Hawk × 1
3 kinds of debris parts × 2
Display base × 1
Display frame × 1
Display arm × 12
Water transfer type decal × 1
※ For this product, Beam · Bazooka, large rocket booster is not included.
-----------------------------------------
1/100 scale assembly plastic model
Target age: 15 years old and over
Product material: PS · PE · ABS
· Adhesive is not used for assembly
-----------------------------------------