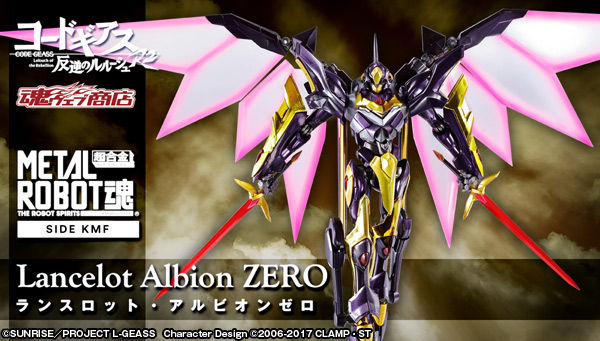 Translate Description:
"Lancelot Albion Zero" riding machine of Suzaku Kururugi that was put on the rule to live as "Zero" -
Appears in the METAL ROBOT soul.
Boasting performance of the strongest class in the history of KMF equivalent of Guren saints octopole type equivalent.
The completely new shaped wing deforms into various styles.
"Again heavy ..., this mask is."
Set Contents
· Main body
· Four replacement wrist left and right
· Energy wing storage condition parts left and right
· Energy wing left and right
· MVS sheath left right
· MVS pattern × 2
· MVS × 2
· Blaze Luminous
· Supervalis × 2
· Joint for super valis mount
· Slash Harken Complete
· Dedicated pedestal
Product size:

Tall: 145

mm / 5.7"inch

Material:

PVC, ABS, Die-cast