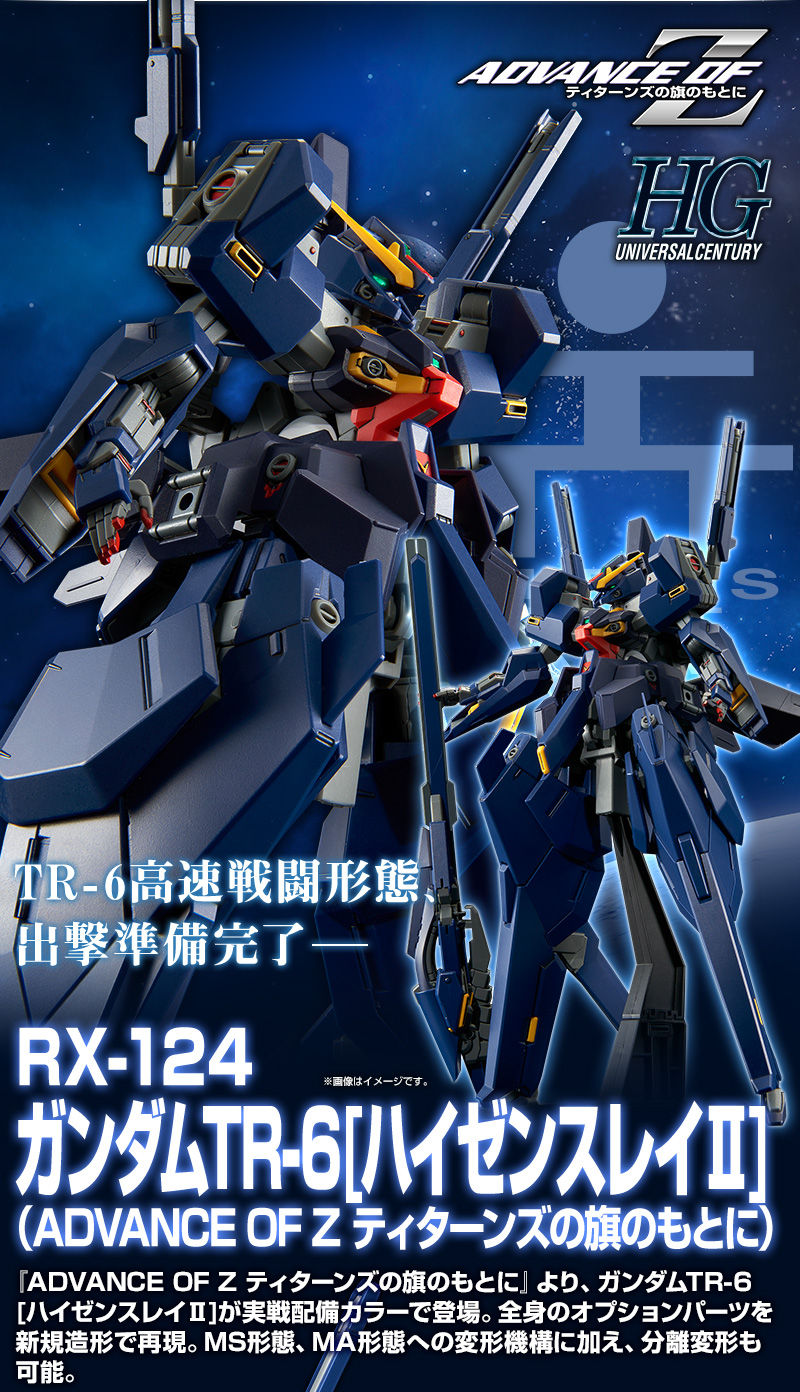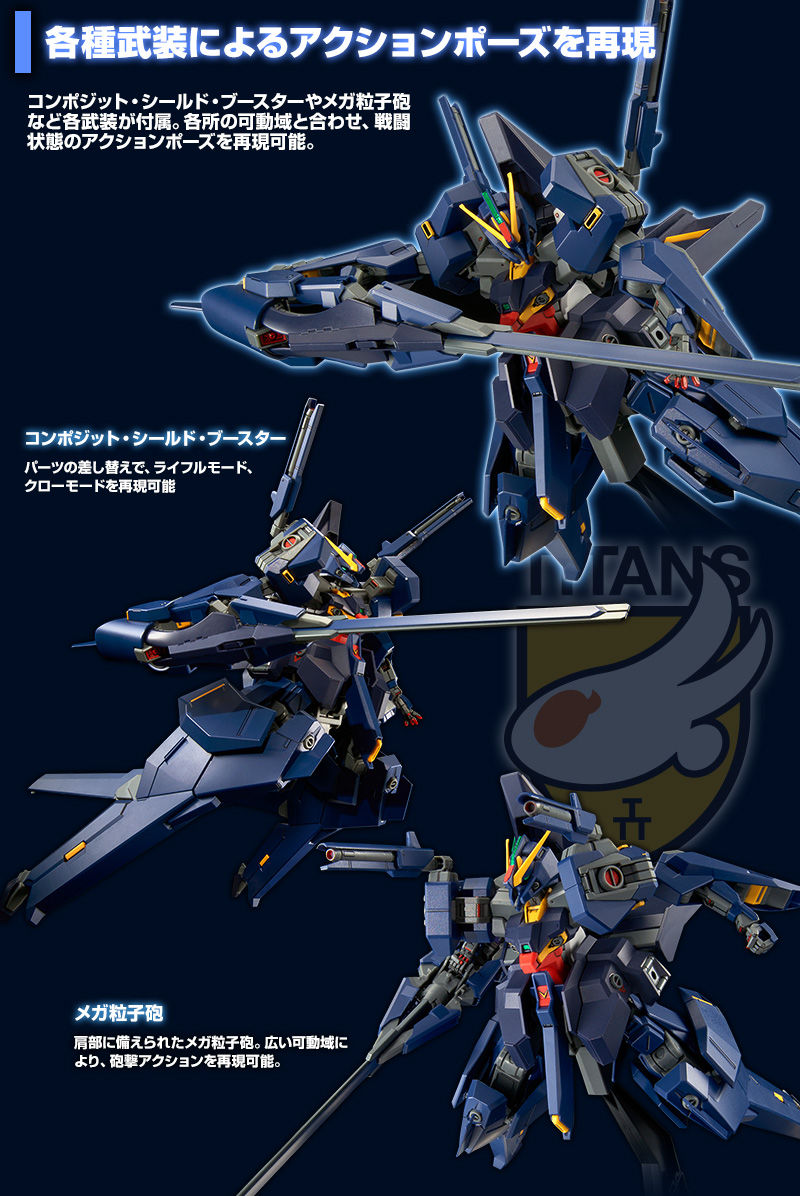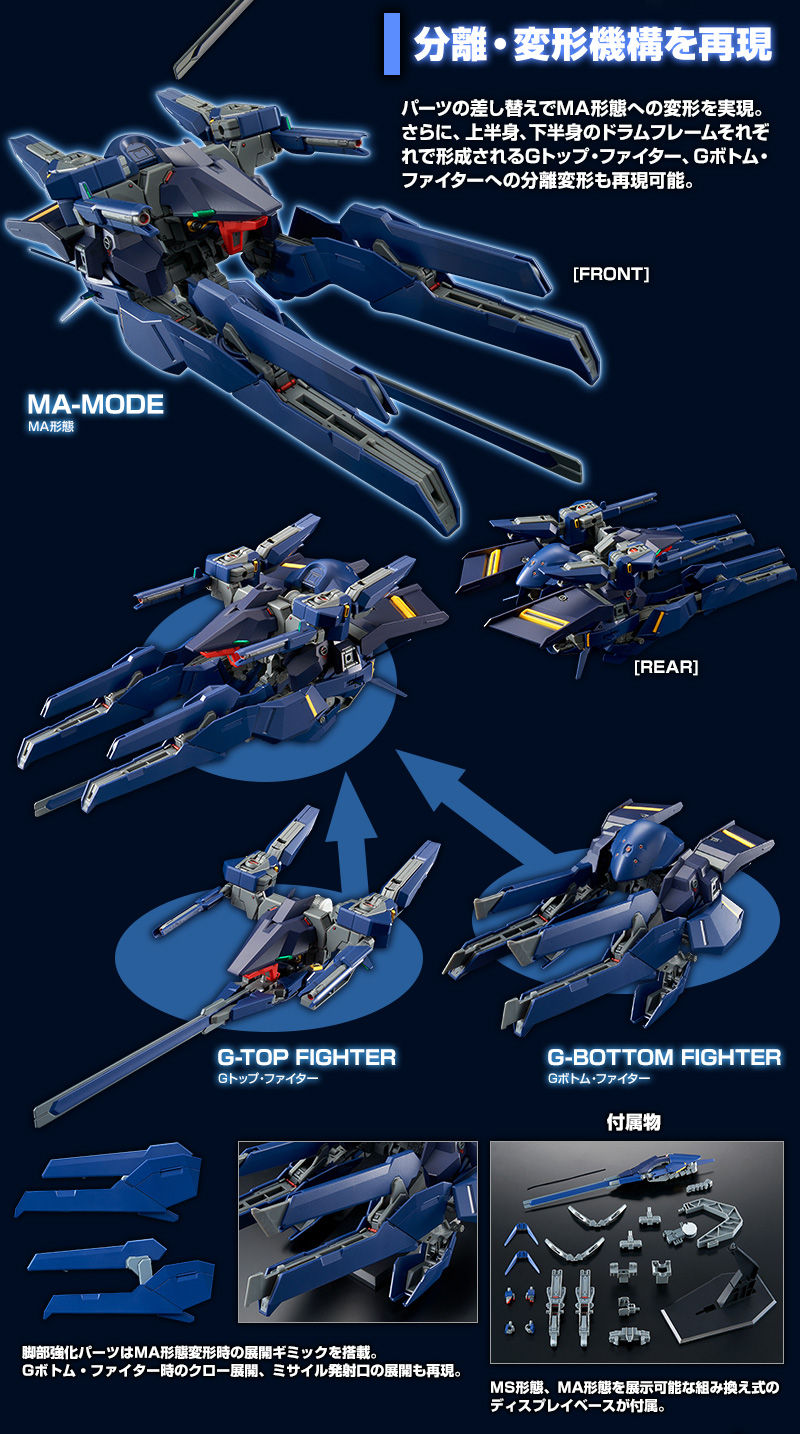 Translate Description:
TR-6 High-speed battle style,
Completed preparation for shooting-
From "ADVANCE OF Z-Under the flag of Titans-", Gundam TR-6 [Haze'n-thley II] appears in HG in actual battle deployment color!
Reproduce the optional parts of the whole body with new modeling. In addition to MS and MA deformation mechanisms, G top fighter and G bottom fighter can be separated and deformed.
● Reproduce optional parts of whole body with new modeling
The drum frame, which has the same shape as [Wound Wart], which is the core as set, is used for the upper and lower body. In addition, the whole body optional parts such as the exterior are reproduced with new modeling.
● Reproduce action poses by various weapons
Included armaments such as composite shield booster and mega particle gun.
¡Combination action poses can be reproduced together with the range of motion of each place.
Composite shield booster
Rifle mode and claw mode can be reproduced by replacing parts.
Mega particle gun
A mega particle gun equipped on the shoulder. With a wide range of motion, the bombardment action can be reproduced.
● Reproduction of deformation / separation mechanism into MA form
Transformation Realization of transformation to MA form by replacing parts.
Furthermore, separation and deformation into G-top fighter and G-bottom fighter, which are formed by drum frames of the upper and lower bodies, respectively, can be reproduced.
Leg reinforcement parts
Equipped with a deployment gimmick when the MA is deformed. In addition, the claw deployment at the time of G bottom fighter, the deployment of the missile launch port are also reproduced.
Display base
Supplied with a recombination display base that can display MS form and MA form.
Attached armed: Composite shield booster
Accessories: Display base
----------------------------------------
1/144 scale assembly plastic model
Target age: 8 years old or older
Product material: PS / PE / PVC
・ No adhesive is used for assembly
----------------------------------------