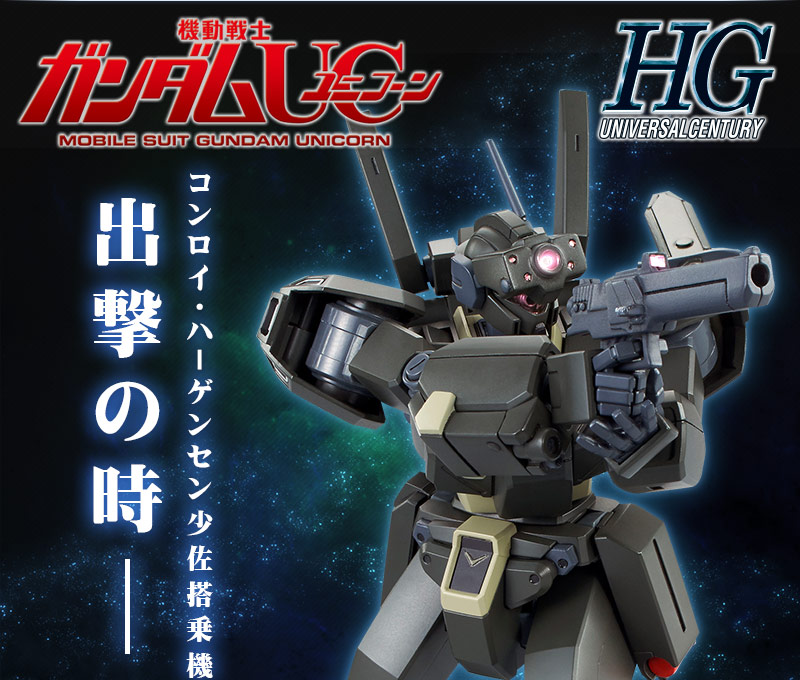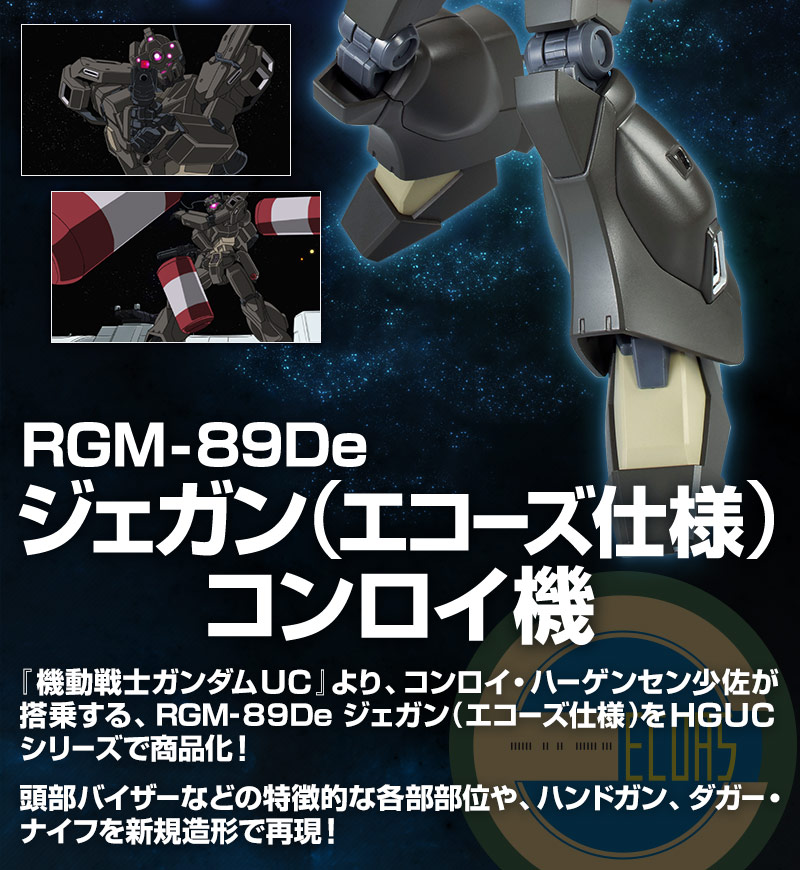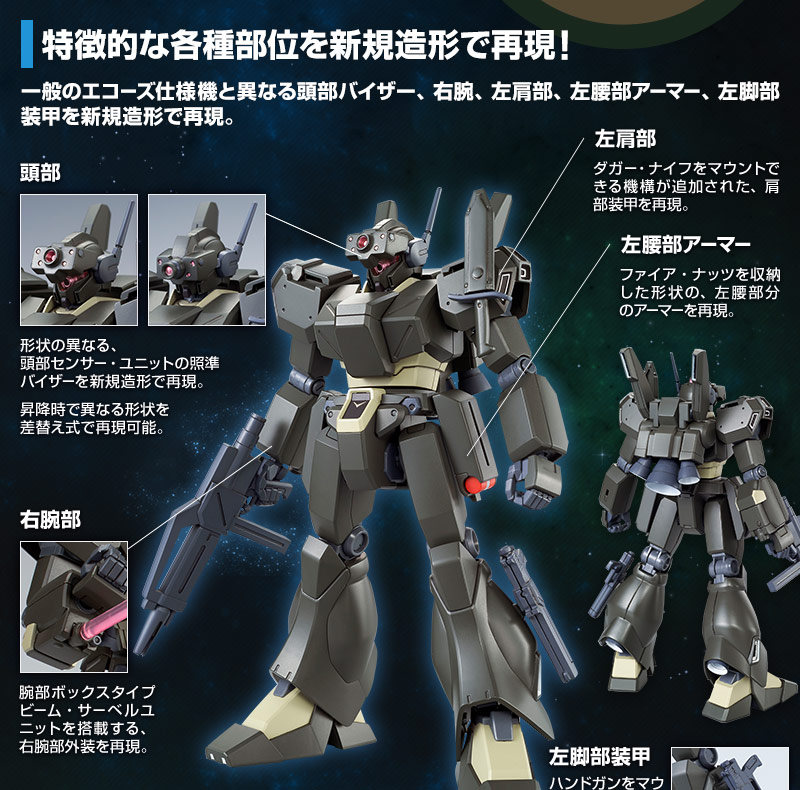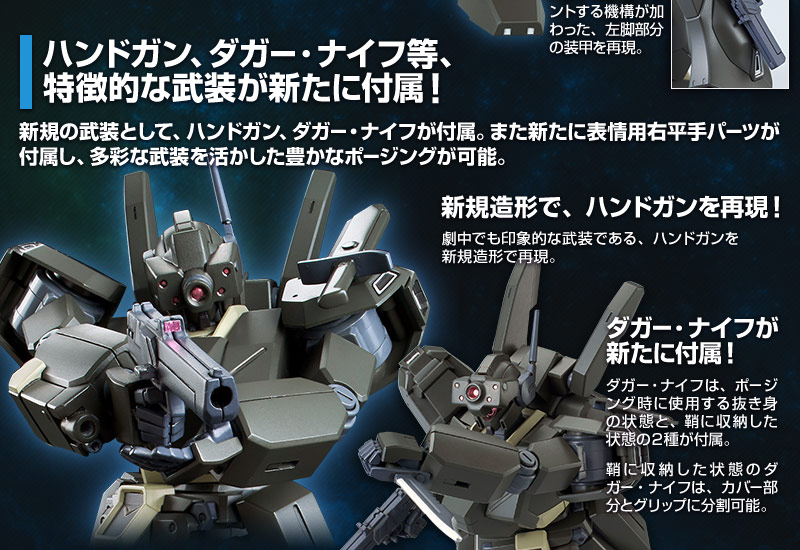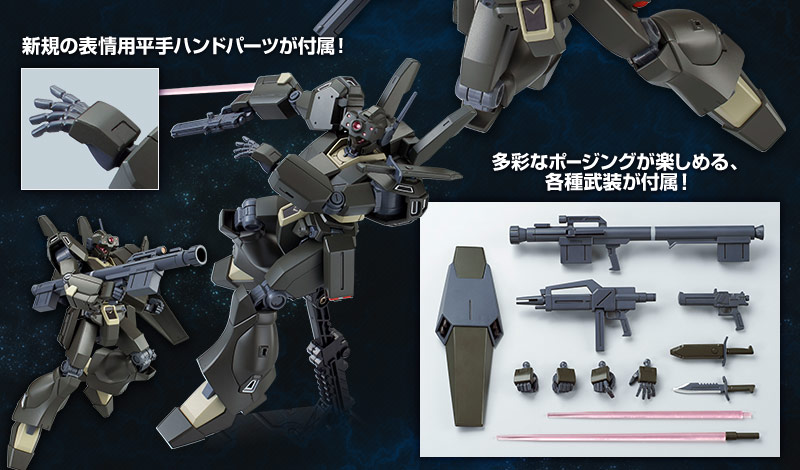 Translate Description:
Conroy ・ Hagensen boarding aircraft at the time of dispatch-
From "Mobile Suit Gundam UC", Major Konroy Hagensen boarded,
Commercialization of RGM-89De Jegan (Echo's specification) with HGUC series!
We reproduce characteristic part parts such as head visor, handgun, dagger knife by new modeling!
● Reproduce the characteristic various parts in new modeling!
Echoes the head visor, different from common echoes specification machine, right arm, left shoulder, left lumbar armor, left leg armor and reproduces it with new form.
・ Head
Reproduces the aiming visor of the head sensor unit with a different shape.
It is possible to reproduce different shapes at the time of ascent and descent by replacement.
・ Right arm
Reproduce the right arm exterior with the arm box type beam saber unit.
・ Left shoulder
Reproduce the shoulder armor with a mechanism that can mount the Dagger knife.
・ Left Lumbar Armor
Reproduce the armor of the left waist, which is shaped to house the fire nuts.
・ Left leg armor
Reproduce the left leg armor, with a mechanism to mount the handgun.
● Includes armed arms such as handguns, daggers and knives!
・ Impressive, even in the play, reproduce the handgun with new modeling!
・ A new dagger knife is included!
Dagger knives come with 2 types of state, which is used when posing, and stored in a cover.
The dagger knives in the sheath can be divided into the cover part and the grip.
-New hand-held flat hand parts are included!
・ Various arming that can enjoy various poses is attached!
Armament: Handgun / Dagger Knife / Beam Rifle / Beam Saber / Bazooka / Shield
----------------------------------------------
1/144 scale assembly type plastic model
Target age: 8 years old or more
Product material: PS · PE · ABS
・ No glue is used for assembly
----------------------------------------------