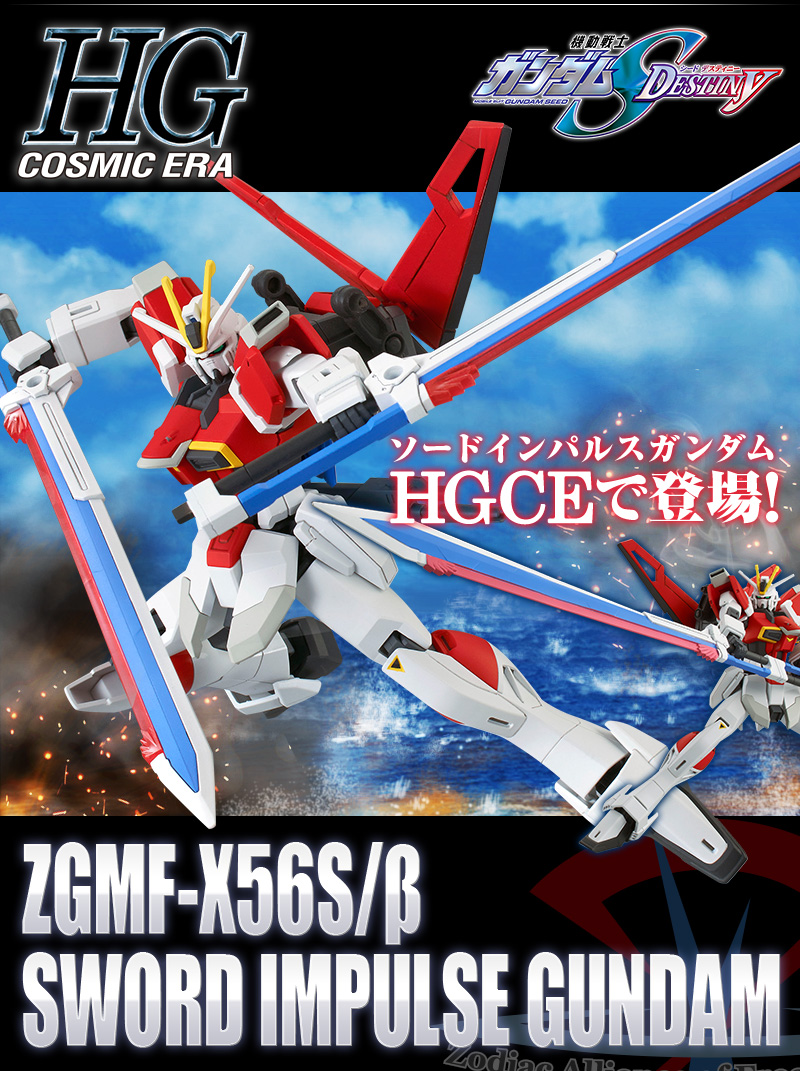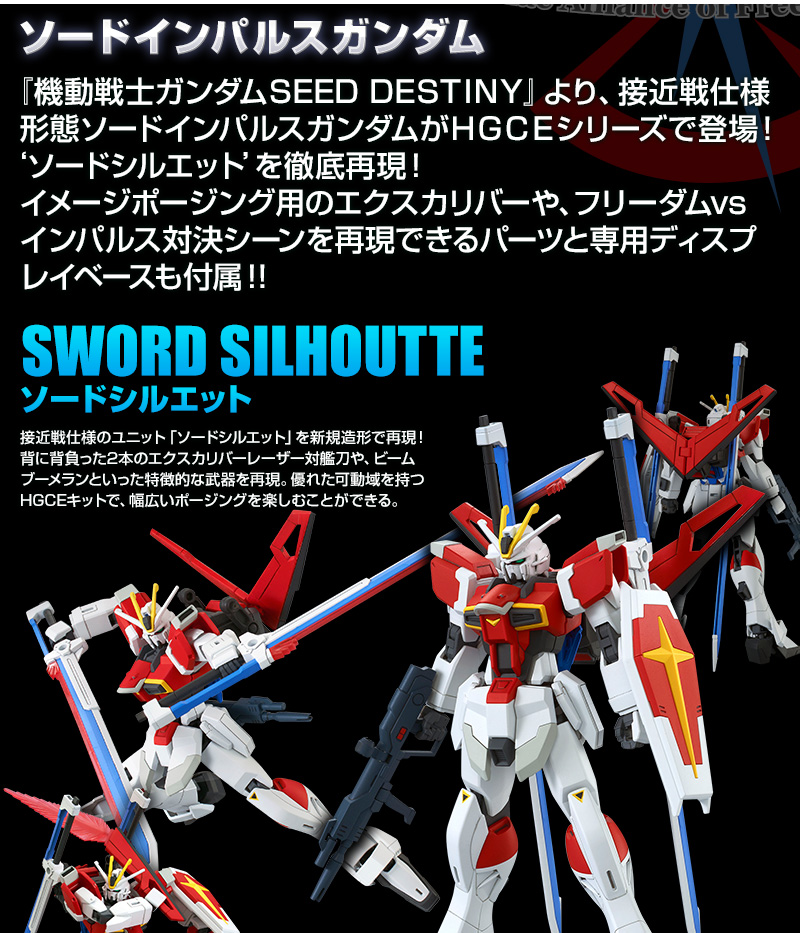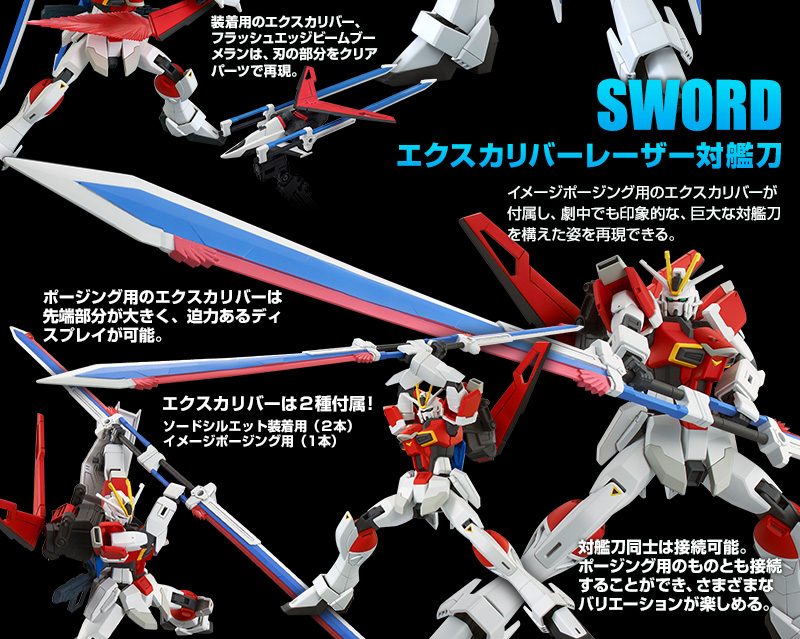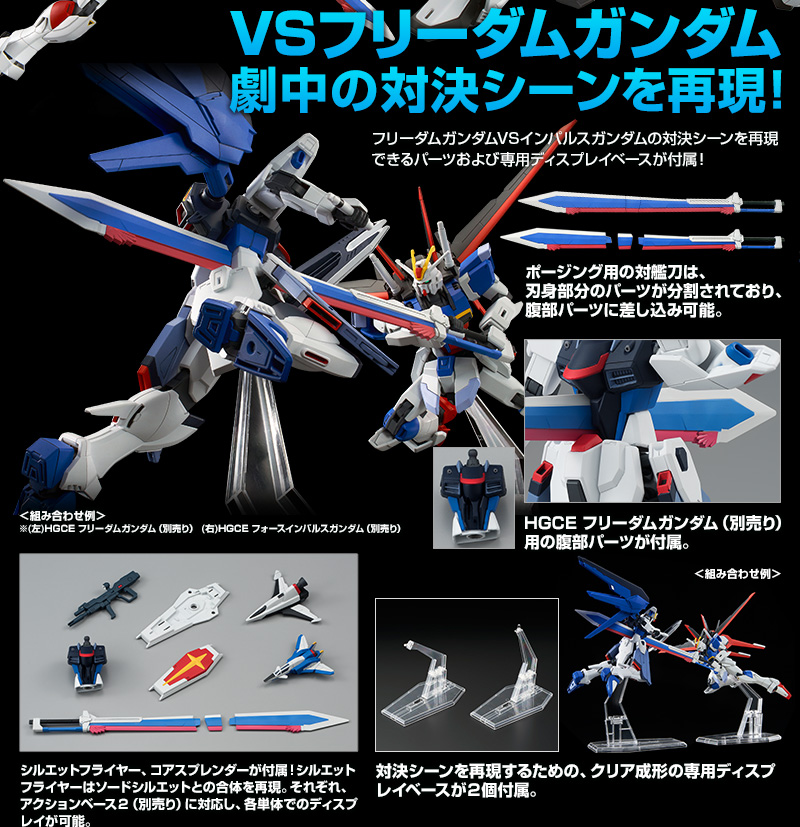 Translate Description:
From "Mobile Suit Gundam SEED DESTINY", close range specifications Sword Impulse Gundam appeared in the HGCE series!
We thoroughly reproduce "sword silhouette"!
Parts and exclusive display base that can reproduce the confrontation scene of Freedom VS Impulse and Excalibur for image posing!
● Reproduce unit "Sword Silhouette" of approaching battle specification with new modeling!
We reproduce characteristic weapons such as two Excalibur laser anti-ship swords carrying on the back and beam boomerang.
You can enjoy a wide range of poses with the HGCE kit with its excellent range of motion.
Excalibur for wearing, flash edge beam boomerang reproduces the part of the blade with clear parts.
Excalibur comes with 2 types!
For sword silhouette wearing (2) For image posing (1)
● Excalibur for posing is included!
It comes with an Excalibur for image posing, and can reproduce a huge anti-shipping figure that is impressive even in the play.
The Excalibur for posing has a large tip, enabling a powerful display.
Two battleships can be connected to each other. It can be connected with the one for posing, and you can enjoy various variations.
※ Excalibur for the image posing that comes with the product is one.
In addition, Excalibur for image posing is
A structure that divides the blade to reproduce the abdominal penetration scene.
※ Publication photograph is painting article.
In addition, Excalibur for image posing has been processed to erase the seam.
● VS Freedom Gundam Reproduce the confrontation scene in the play!
Parts that can reproduce the confrontation scene of Freedom Gundam VS Impulse Gundam and a dedicated display base are included!
The part of blade body part is divided and the anti-ship sword for posing can be inserted in the abdominal part.
Abdominal parts for HGCE Freedom Gundam (sold separately) are included.
Two clear-formed dedicated display bases are included to reproduce the confrontation scene.
● Silhouette fryer and core sprinkler are included!
Silhouette flyer reproduces uniting with Sword silhouette.
Each supports Action Base 2 (sold separately) and can be displayed individually.
Armament: Sword silhouette / anti-ship sword / beam rifle / shield
----------------------------------------------
1/144 scale assembly type plastic model
Target age: 8 years old or more
Product material: PS · PE
・ No glue is used for assembly
----------------------------------------------