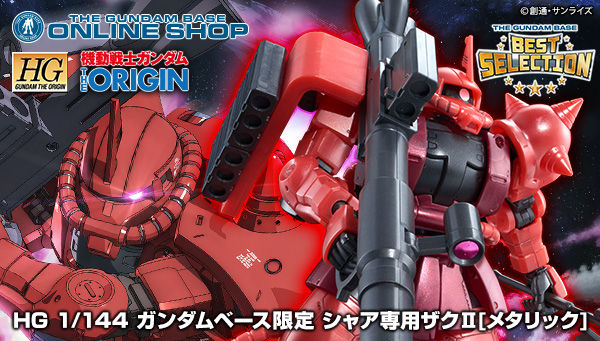 Translate Description:
The limited gunpla of the official gunpla general facility "Gundam base" for gunpla fans around the world
Appeared in Gundam based online shop as "Best Selection"!
From "Mobile Suit Gundam THE ORIGIN", Char-only Zaku II [metallic] appeared in high grade!
● Special specification using metallic color for molding color!
● Set with THE GUNDAM BASE limited pedestal.
● Armaments such as a large anti-ship rifle and the movement of each part determine the dynamic action pose!
Armored Armed Forces: MS Bazooka A2 / MS Anti-ship Rifle ASR-78 / Heat Hawk
Accessories: Dedicated pedestal
-----------------------
1/144 scale assembly type plastic model
Target age: 8 years old or more
Product material: PS · PE
・ No glue is used for assembly
-----------------------