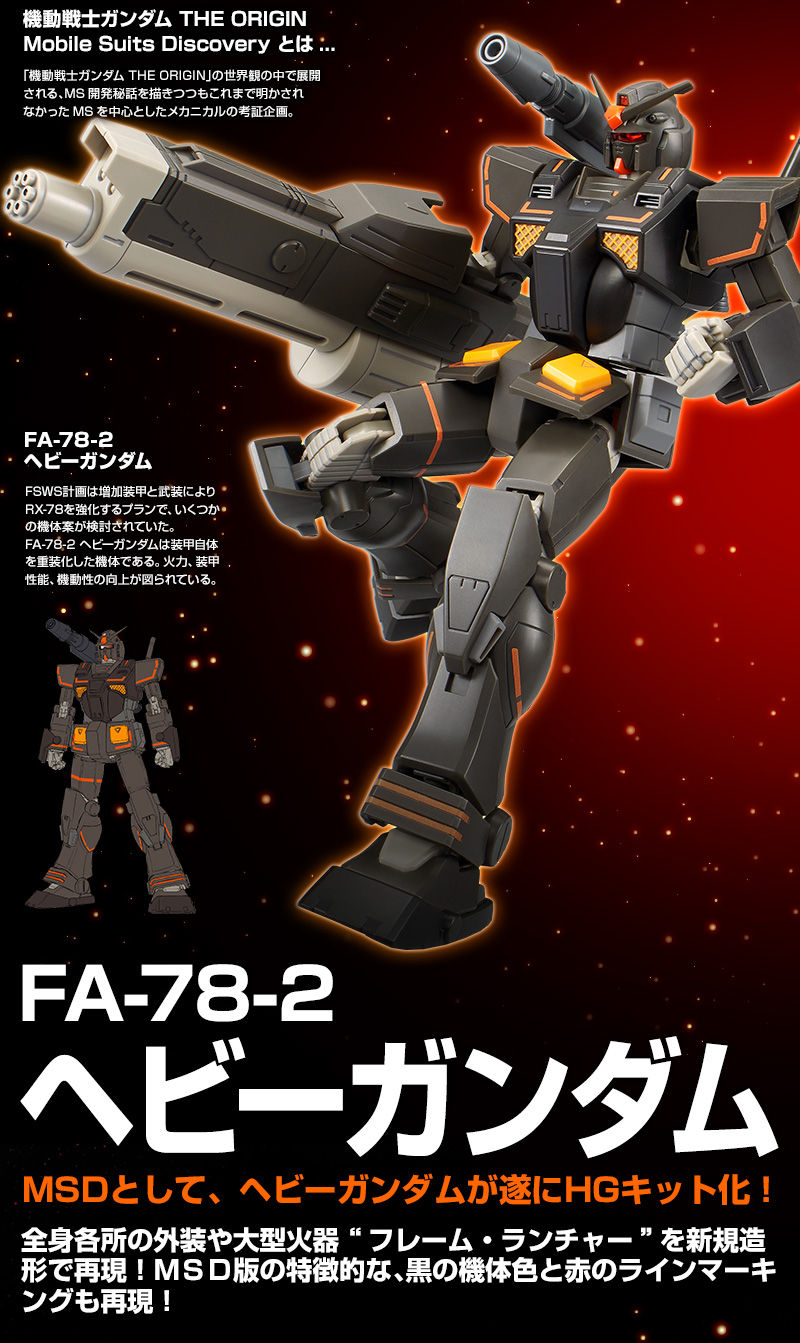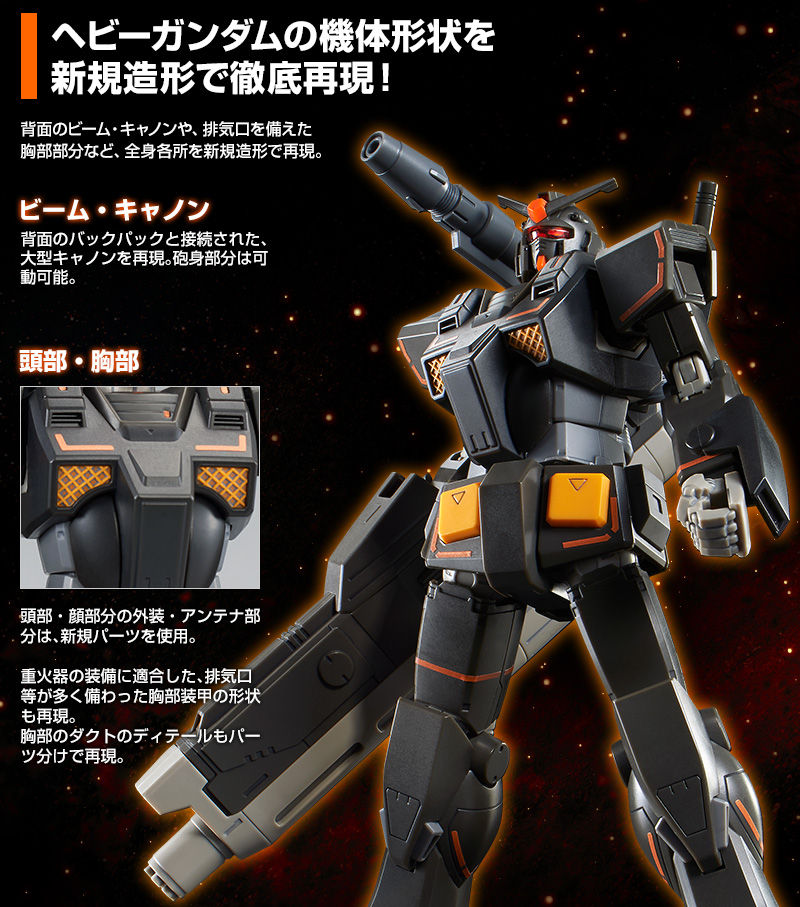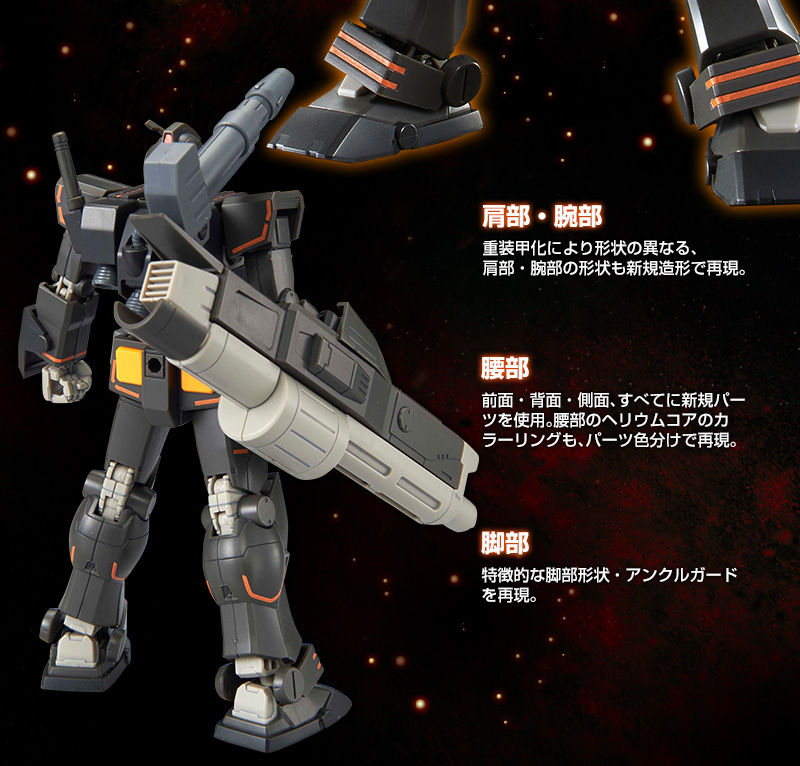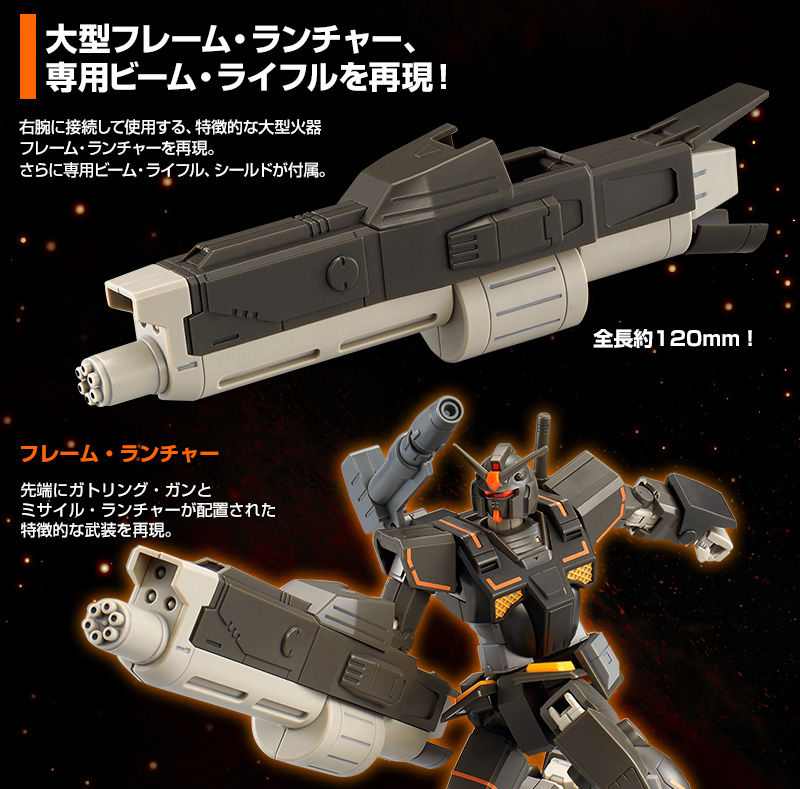 Translate Description:
From Origin MSD, Heavy Gundam finally becomes HG kit!
Direct heavy armor type MS- "FA-78-2 Heavy Gundam" superior in thermal power and anti-ball performance created by the FSWS project
Origin Genealogies of MS considered at MSD are reproduced with HG kit!
- -
Aircraft created by Increasing Weapon System "FSWS (Full-armour System and Weapon System) Plan".
FA-78-1 Full Armor Gundam was of the type with increased armor and armament mounted on the armor,
FA-78-2 Heavy Gundam is an airframe that heavy-duty armor itself. Improvement of fire power, armor performance, mobility.
- -
"Mobile Suit Gundam THE ORIGIN" From MSD (Mobile Suit Discovery)
"Heavy Gundam" appears in the HG series kit!
Aircraft exterior of whole body and large firearm "Frame · Launcher" is reproduced by new modeling!
The MSD version's characteristic, black aircraft color and red line marking also reproduced!
● Heavy Gundam's airframe shape is thoroughly reproduced with new shaping!
Reproduction of the exterior of the whole body such as beam cannon on the back and characteristic chest, with new shaping. In case
In case
【Beam · Cannon】
Reproduced large cannon, connected with the backpack on the back. The barrel part is movable. In case
【Head / chest】
The exterior of the head / face part · The antenna part uses new parts.
It also reproduces the characteristic shape of the thorax armor adapted to the equipment of the heavy weapon. Detail of chest duct is also reproduced in parts.
[Shoulder]
The shape of the shoulder and arms, which was heavily armored, is reproduced by new modeling.
In case
【waist】
Use front parts, rear part, side parts, all parts new. The coloring of the helium core is also reproduced by part color coding.
【leg】
Characteristic leg shape · Uncle guard is reproduced.
● Reproduce large frame · launcher, beam · rifle!
Reproduced in a new modeling, a characteristic large firearm frame / launcher to be connected to the right arm.
Further dedicated beam · rifle, shield attached.
Frame Launcher
Reproduce the characteristic armed with Gatling gun and missile launcher at the tip.
Special beam / rifle
A special beam rifle leading to Heavy Gundam Unit 2 is newly attached.
Shield
Shield equipped with a folding mechanism of the same type as FSD Gundam is included.
Equipped with exclusive joint parts.
- Includes new marking seals that contain line markings etc!
- High mobility performance is realized by the latest HG format!
Attached Armor: Frame · Launcher / Private Beam · Rifle / Shield / Beam · Saber
-----------------------------------------
1/144 Scale Assembly Plastic Model
Age: 8 years old and over
Product material: PS · PE
· Adhesive is not used for assembly
-----------------------------------------