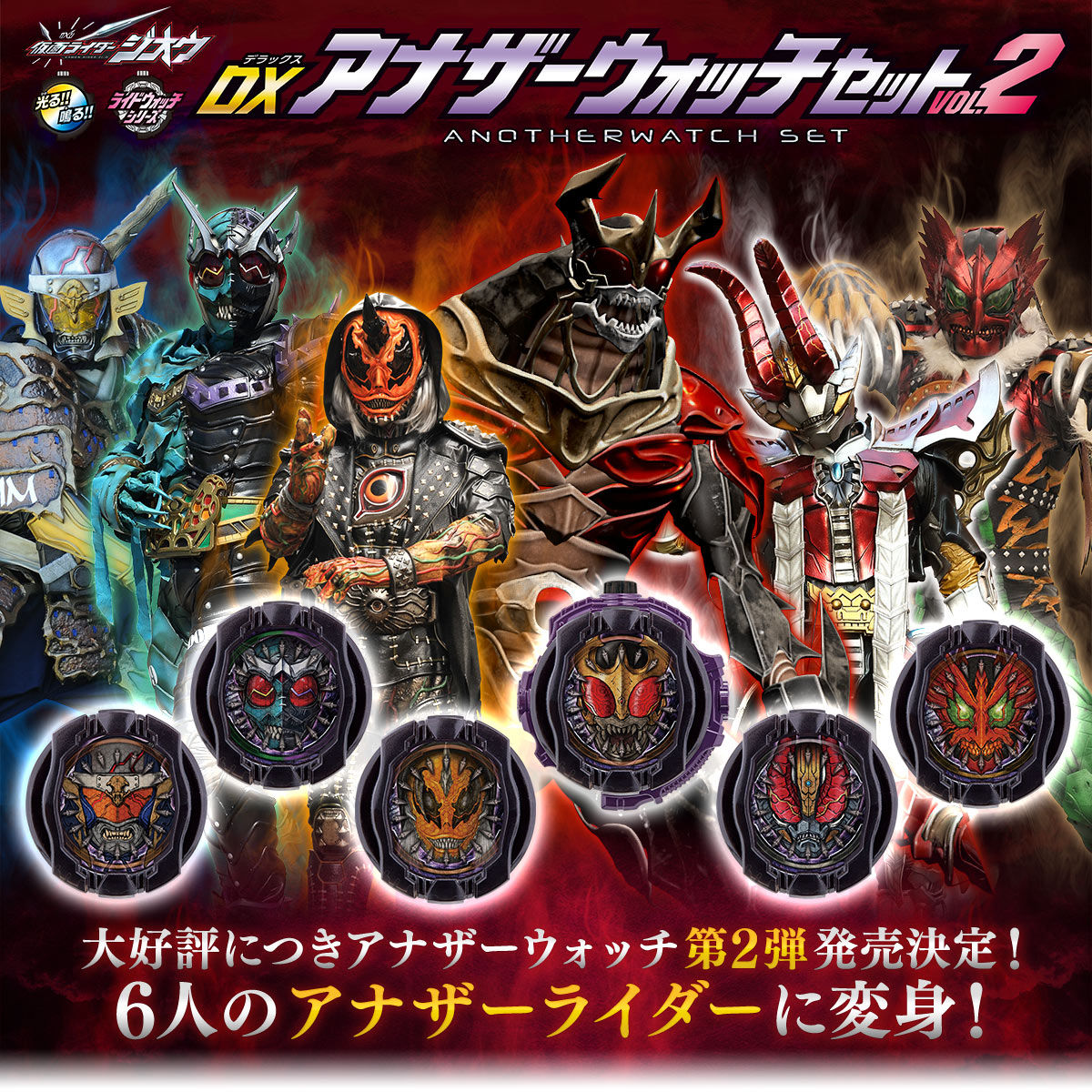 Translate Description:
With the first popular popularity, as soon as second release release decision! Another Watch Set VOL.2 appeared!
~ Also transformed into "Another Kuuga" that appeared in the latest movie! ~
Description of item
From the "Masked Rider Georgete" currently on air, the second volume of "DX Another Watch Set" appears.
"Another Watch" is an item for Time Jacker from the future to create another rider.
By changing the attached cover parts, it changed to six other watches such as "Another Ozz," "Another Armor," "Another Ghost," "Another Deno," "Another W", and "Another Kuuga".
"Another Denario", "Another W" and "Another Kuuga" are another riders appearing in the 20th film Heisei Kamen Rider 20th film "Kamen Rider Heisei Generation Forever" scheduled to be released on Saturday, December 22, 2018.
Long press the button on the top and select the characters in the order of "Another Ozze", "Another Armor", "Another Ghost", "Another Denario", "Another W", "Another Kuuga". If you press the top button for a short time again, you will hear "transformation sound to another rider" and enjoy playing with it.
There is no change in sound due to replacing cover parts.
* The pattern does not change even if the cover part is rotated.
In addition, it can interlock with the "Masked Rider Georgette DX series" of ride watch interlocking, such as "DX jiku driver" sold separately. If you set it to "DX jiku driver" and rotate it, the transformation sound will be activated along with "EVIL" indication.
Set content
Ride watch (with cover) ... 1
Cover parts ... 5
Product size
W 70 mm × H 77 mm × D 45 mm
Product material
ABS, PC, PET, PP
Target age
3 years and over
Battery
Body ... LR44 × 3 (attached) ※ The batteries that are set are for testing.