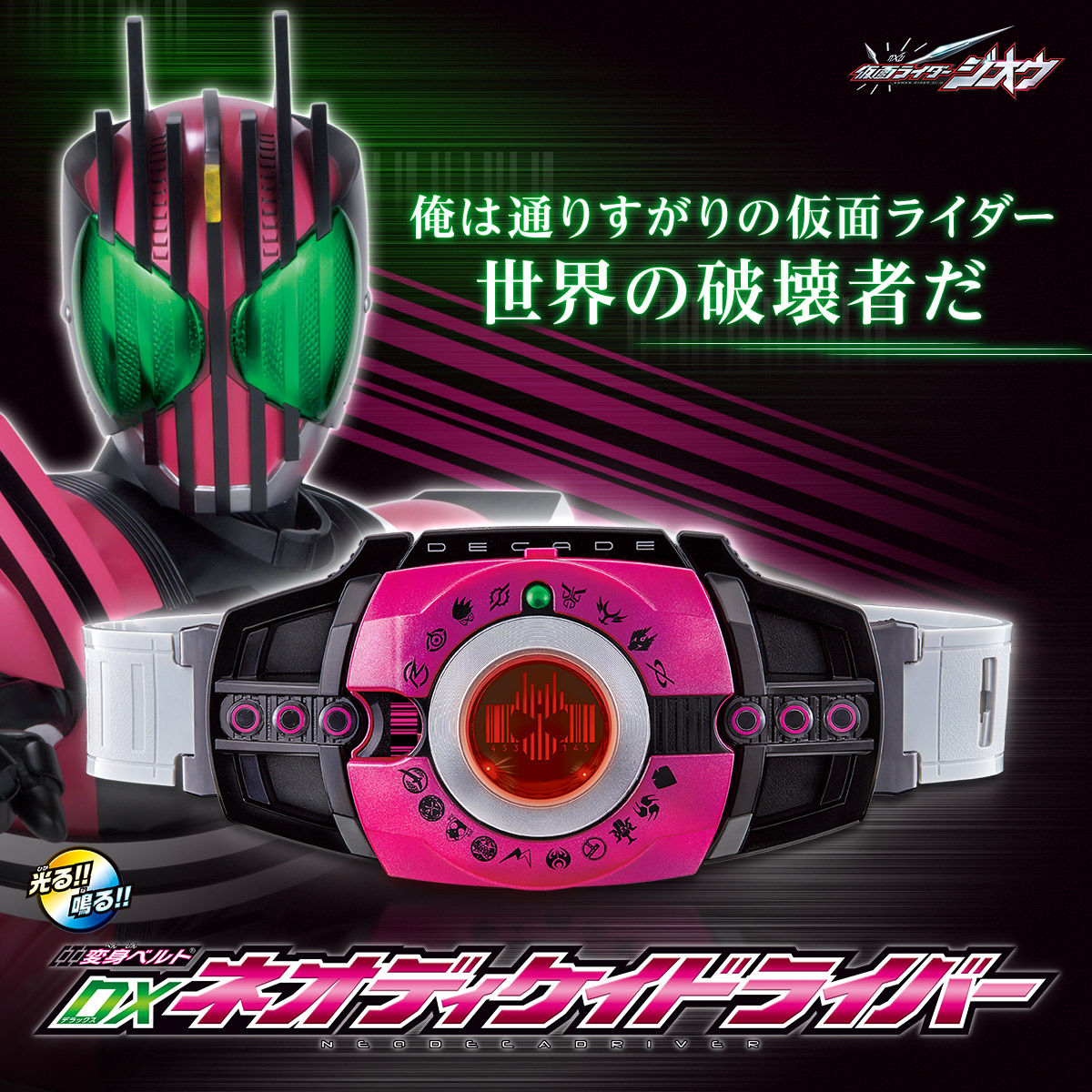 Translate Description:
"Kamen rider geou" "Commemorating the appearance of" Decade "! Transformation belt "DX Neo Decake Driver" will be released!
Newly recorded "Rider card" of Heisei late! Transformed to 20 successive Heisei riders
Description of item
The transformation item used by "Masked Rider Decade" which is a rider who appears in the 10th film of Heisei Kamen Rider of the 2009 broadcast that appeared in the episode "Masked Rider Georg" 13th episode (broadcast on December 2nd) Neo Decay Driver "as early as possible!
The transformation belt of "Masked Rider Decade" has been reborn as time passes, the body color has changed from white to pink, and other than the "DX Decay Driver" at the time of broadcasting, "Kamen Rider W" after the late Heisei period We recorded a new item such as "Kamenrideido" which can be transformed into a mask rider and "Final Attack card" to activate a deathbed technique.
By using "Kamenrideo card" in this product, you can transform into 20 Heisei riders including 10 late Heisei riders. Transformation voice such as "Kamenride double !!" is activated.
By using "FINAL ATTACK CARD", you will activate Special Movement Voice such as 10 Final Attack Ride! And "Bibivbi Building!" Of 20 Heisei riders including late Heisei riders.
In addition, "Masked Rider Kuuga" to "Masked Rider Decade" ten Heisei riders' "Final form ride card" is also included. By using this card sound effects etc. will be activated at the time of form change.
Set content
Neo Decay Driver ... 1
Kamen ride card ... 20
Final Attack Ride Card ... 20
Final form ride card ... 10
Product size
Neodisei driver main body ... W 180 mm × H 90 mm × D 70 mm
Waist circumference size 480 mm - 680 mm
Card ... W 60 mm × D 86 mm
Product material
Neodisei driver ... ABS, PC, POM, PE
Card ... PET
Target age
3 years and over
Battery
Body ... AAA batteries × 2 (sold separately)