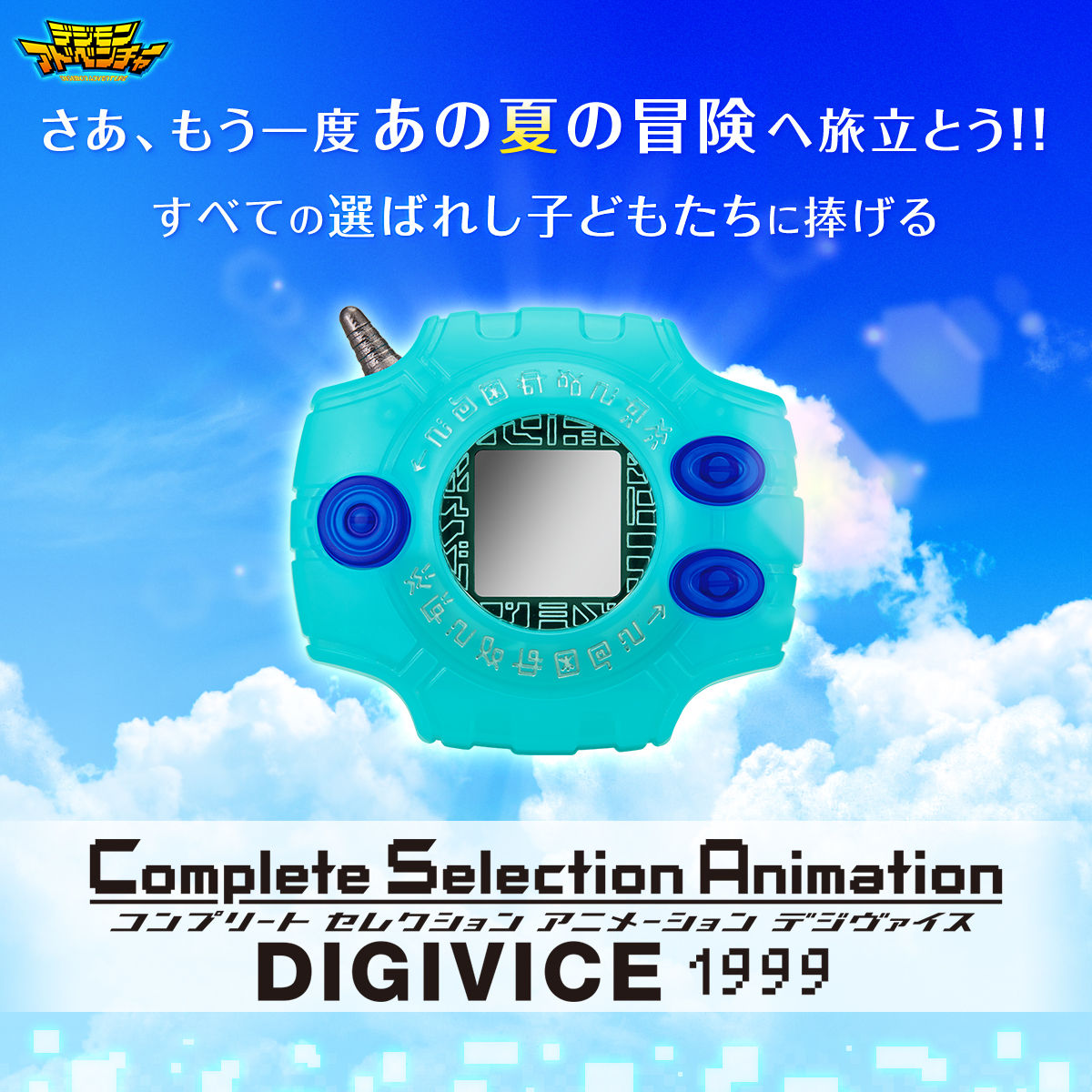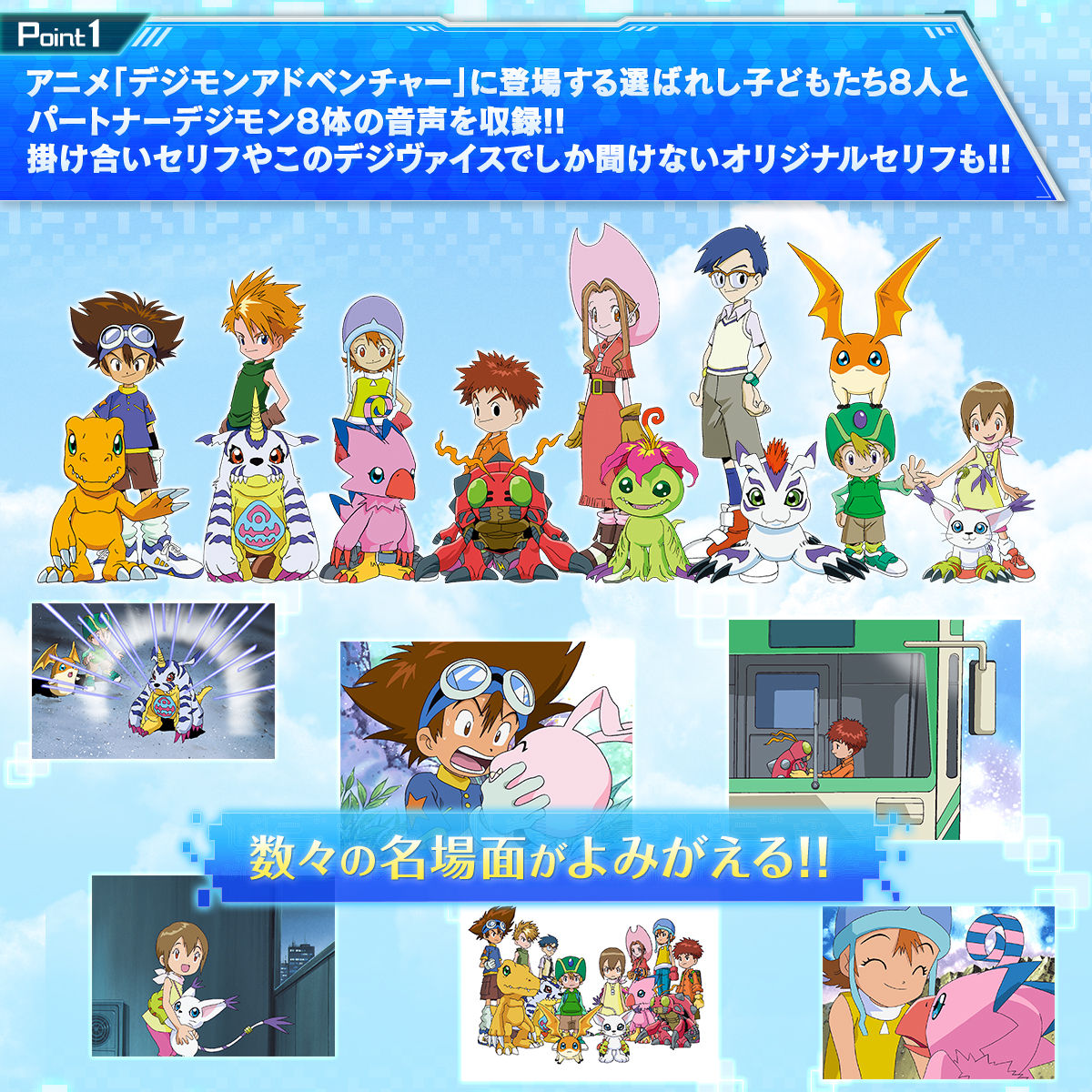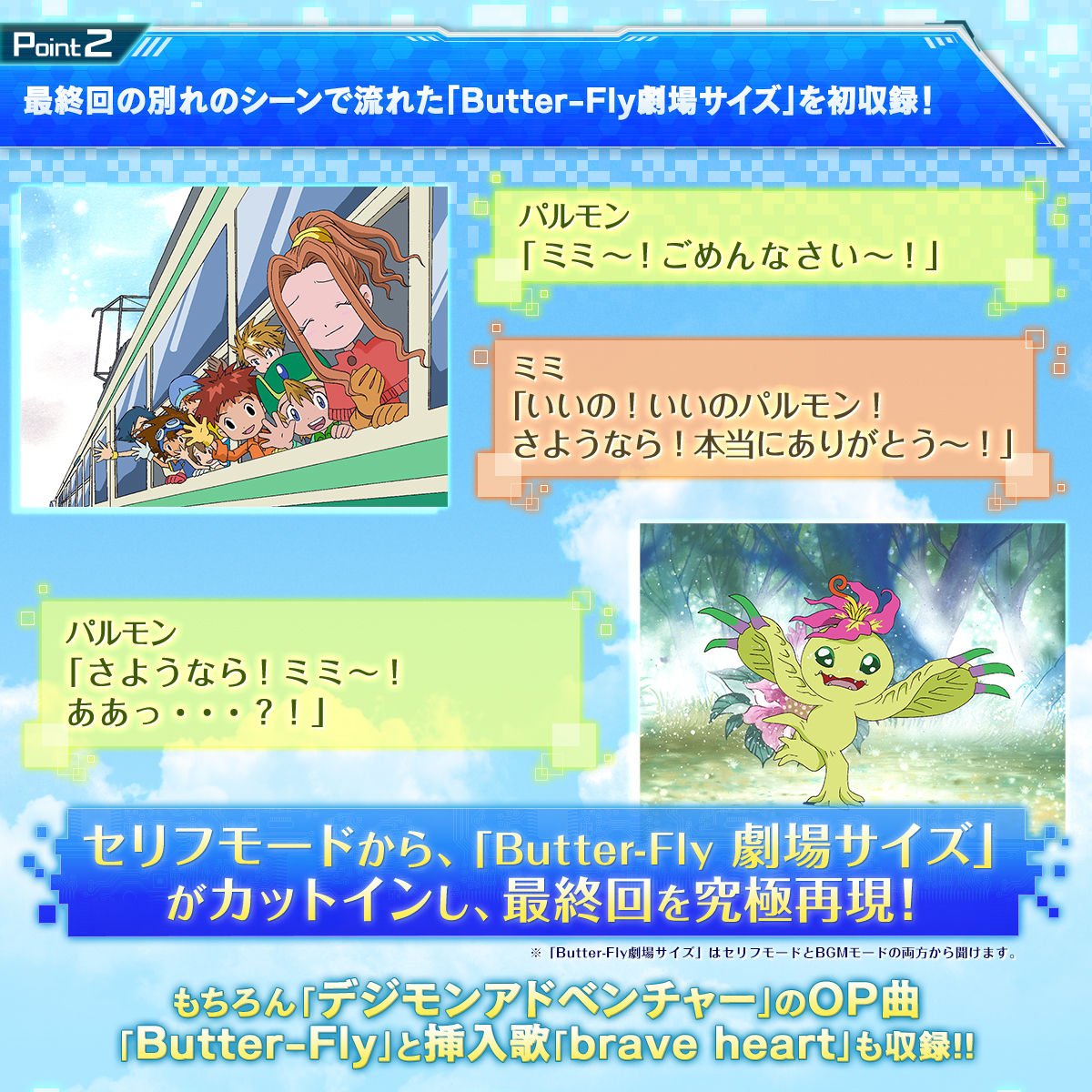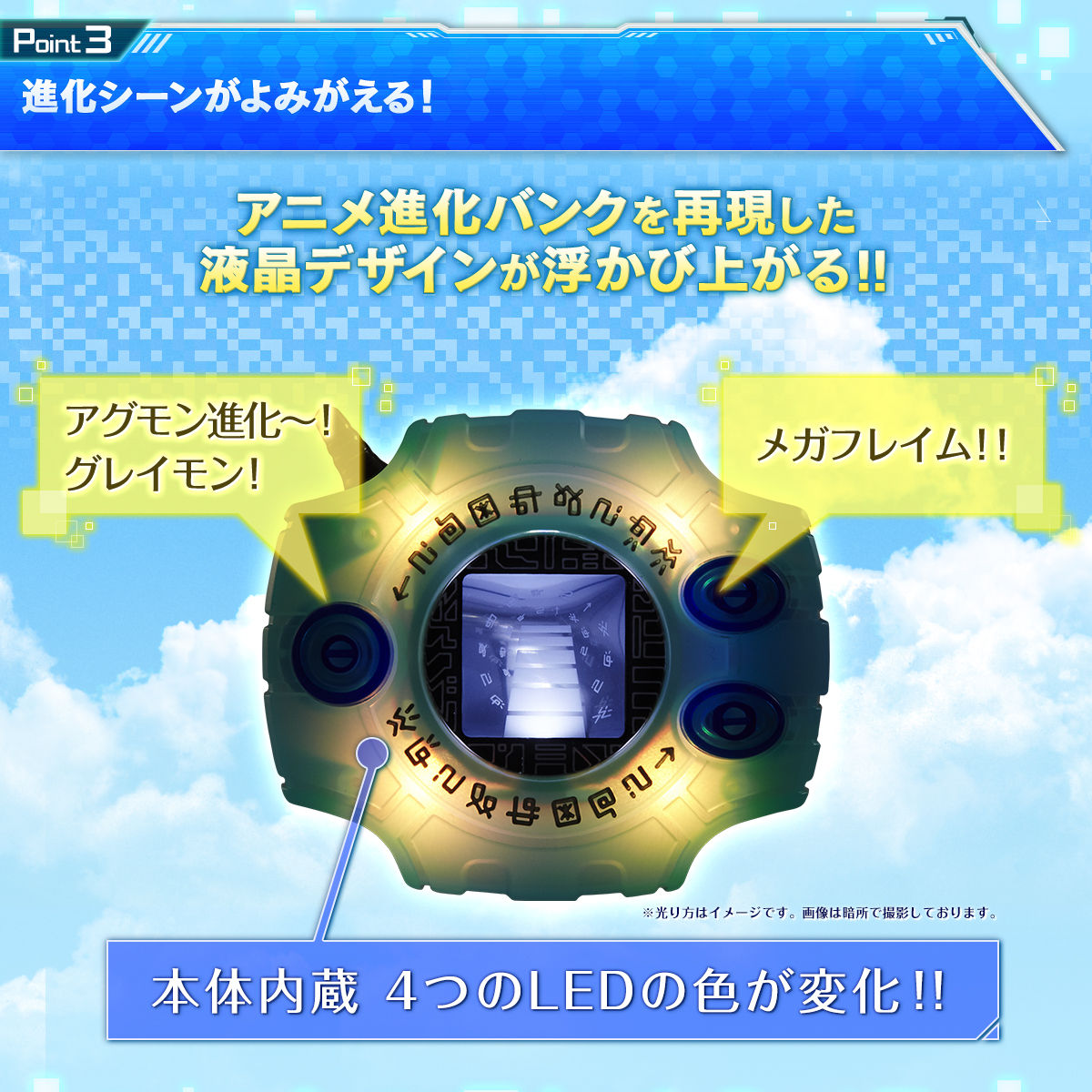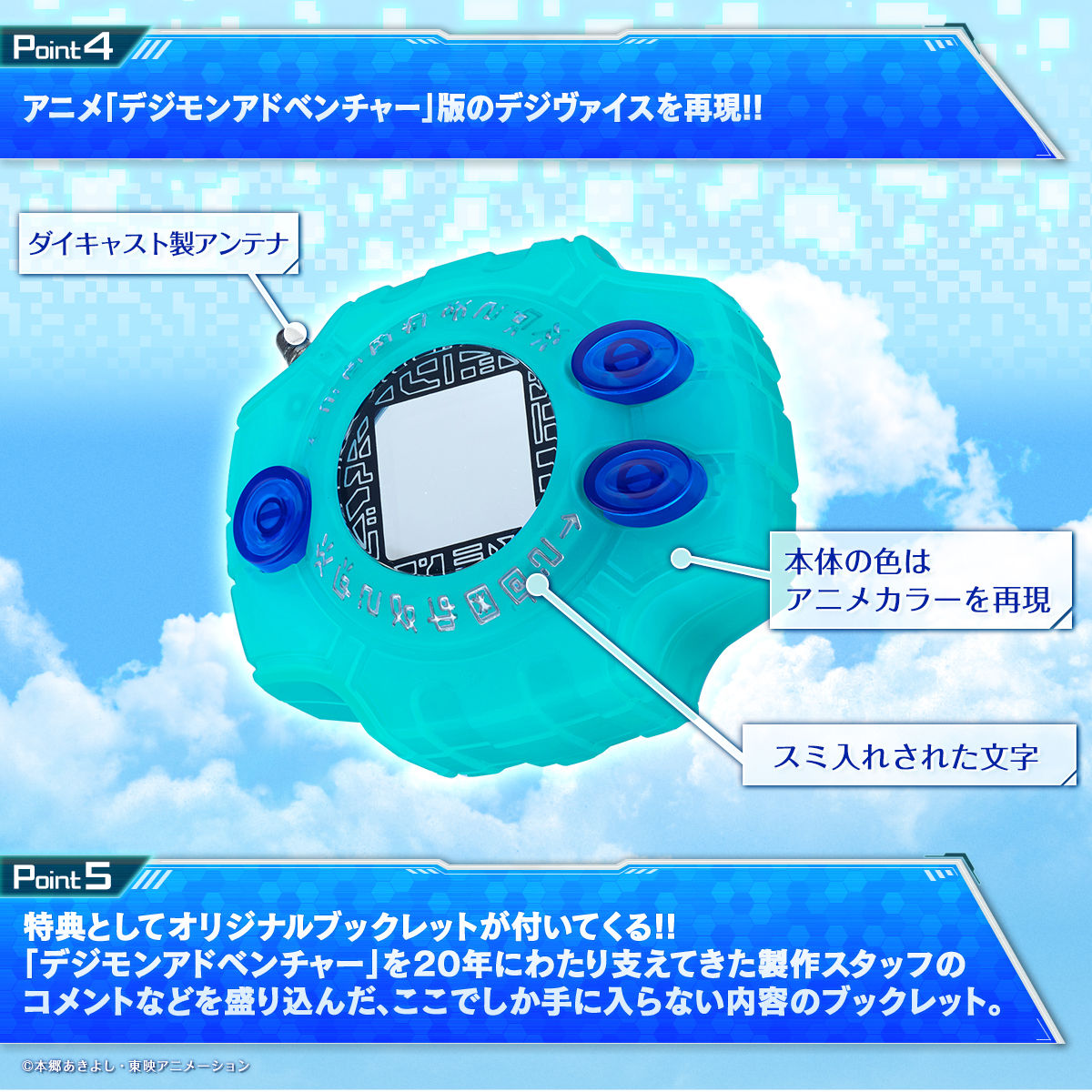 Translate Description:
"Digimon Adventure" Appearance for adults Digi-vis
Recording 16 characters of speech recognition / final impression of impression
Description of item
As a celebration of the 20th anniversary of the TV anime "Digimon Adventure" broadcast in 1999, Digi-Vice which appeared in the appearance appeared in the brand "Complete Selection Animation" for adult anime fans. Audio of eight children selected and 8 partner Digimon chosen to appear in the work was recorded.
You can also enjoy dialogues between children and Digimon and original lines you can listen only at this Digivice. In addition, "Butter-Fly Theater size" flowed in the scene of parting with partner Digimon of the last round of animation is recorded for the first time. It is possible to reproduce emotional name scenes.
In addition, an interview made by animation production staff at that time and a special booklet packed with the history of toys are attached.
<Example of serif>
Taichi "How are you !! Ideas!"
Yamato "It is in vain to be strengthened !!"
Taichi "What?"
Yamato: "Did you suicide ... ?!"
Length "Are we done with this ...?"
Mimi "No, no! ~"
TAKEL "It's not over!"
Kotoko: "Is it the end? ..."
Yamato: I will not let it end ...!
Taichi "I will end up ...!"
Length "Absolutely ...!"
Sky "Because ...!"
Hikari "We have ...!"
All the children "Because there is tomorrow !!!"
♪ 'brave heart'
Mimi "Wow ...! Wow ...! Wow ...! Wow ...! Ha !?"
Palmon "Huh! (Running voice)"
Sky "Mimi-chan !!" Mimi "Yeah !!"
Palmon "Mimi ~! Mimi ~ ~ !!"
Mimi "Palm-on !!"
Palmon "Mimi ~ I'm sorry ~"
Mimi "Good! Nice parmone! Goodbye! Thank you so much!"
Palmon "Good-bye! Mimi ~! Oh ... ?!"
♪ "Butter-Fly theater size"
<Character voice>
Taichi Yagami (CV. Yoshiko Fujita)
Agumon (CV. Sakamoto Chinatsu)
Takei Inner sky (CV. Mizutani Yuko)
Pyomont (CV. Shigematsu Flower Tree)
Ishida Yamato (CV. Kazama Isao)
Gabmon (CV. Yamaguchi Mayumi)
Izumi Mitsuko (CV. Tenjin waters)
Tentmon (CV. Takahiro Sakurai)
Mimi Tachikawa (CV. Ai Maeda)
Palmon (CV. Yamada Kinoko)
Kido Length (CV. Masami Kikuchi)
Gomamon (CV. Junko Takeuchi)
Takaishi Takeru (CV. Megumi)
Patamon (CV. Miwa Matsumoto)
Yagami Hikari (CV. Araki Kaei)
Teilmon (CV. Tokumitsu Yuka)
Set content
Body ... 1
Special booklet ... 1
Product size
Body ... W 68 mm × H 60 mm × D 44 mm
Special booklet ... W 140 mm × H 80 mm
Product material
Body ... ABS · PC · ZnDC
Special booklet ... paper
Target age
15+
Battery
AAA batteries × 2 (sold separately)