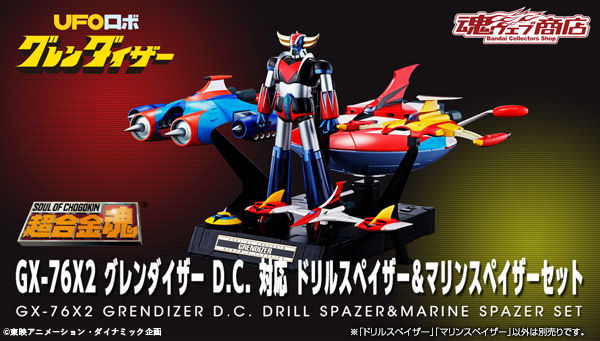 Translate Description:
Support Mechanism "Drill Spaser" and "Marine Spearer" to Strengthen Grendizer Appear as 2 Machine Set Items!
The drill spacer is equipped with two large drills, and by combining it with Grendizer
It is a reliable mecha that became a powerful force such as underground work and attack using the drill itself!
Marine Spearer greatly increases maneuverability underwater by being attached to the back of Grendizer.
Both machines played an active part from television third cool.
Of course, realize the combined action to Grendizer D.C.
The two large drills of the drill spaser replicate the change before and after coalescence in parts anchor shape as it is in part change.
The marine spearer also allows the floats of both wings to stretch and the horizontal tail can be separated as a weapon / marine cutter.
Drill Spaser The drill missiles of both wings are also attached parts that are changing in a spiral shape at launch,
Suitable for items of "D.C. series" which strongly launched the image of TV animation,
Various activity scenes drawn in the play can be reproduced firmly with abundant optional parts.
Two units of arm parts for display that can be mounted on the display table attached to GX-76 Glendizer D.C. are included.
You can display the drill spacer and the marine spaser together with the grinder.
It is also possible to display all the spacers side by side by aligning the base of the GX - 76X spacer set.
Set Content
· Drill Spaser
· Marine Spearer
· Extended drill for coalescence × 2
· Replacement small drill × 2
· Dedicated pedestal