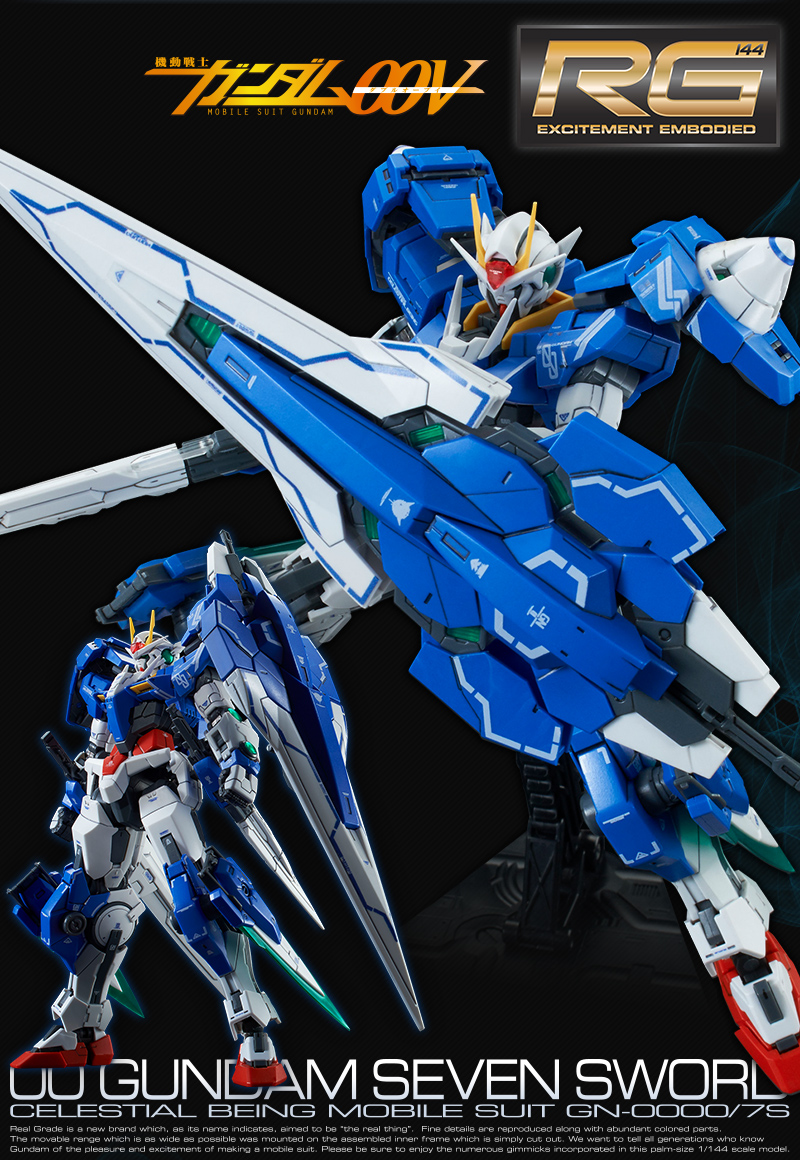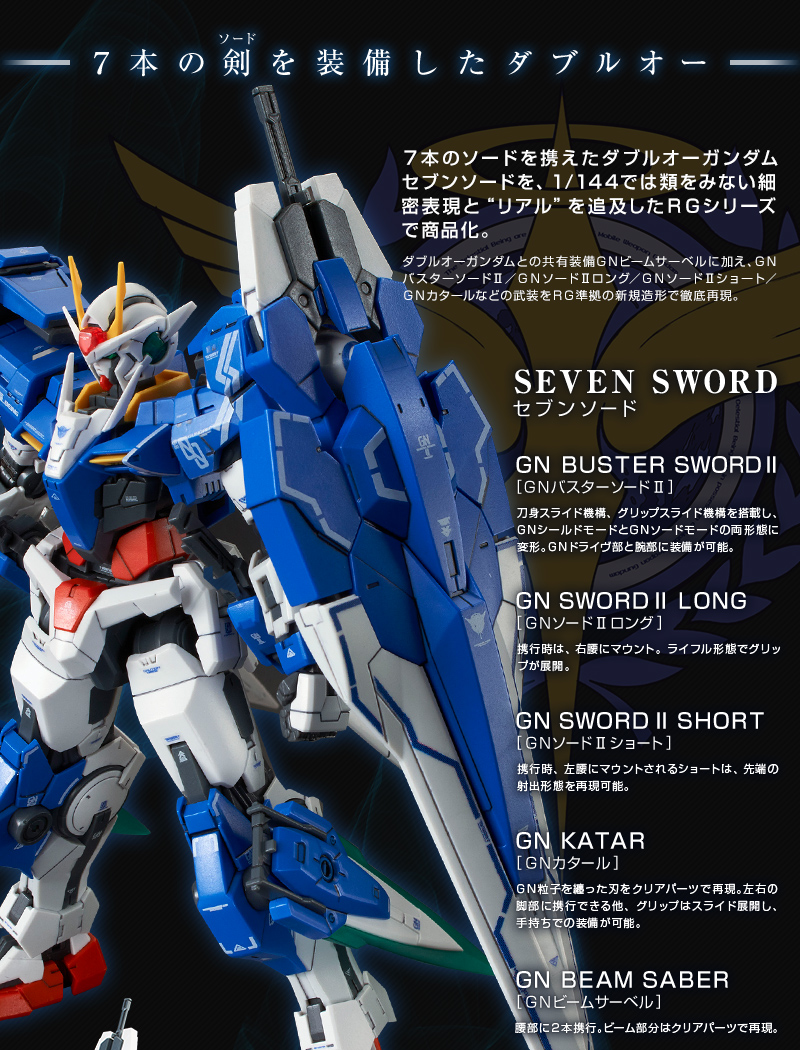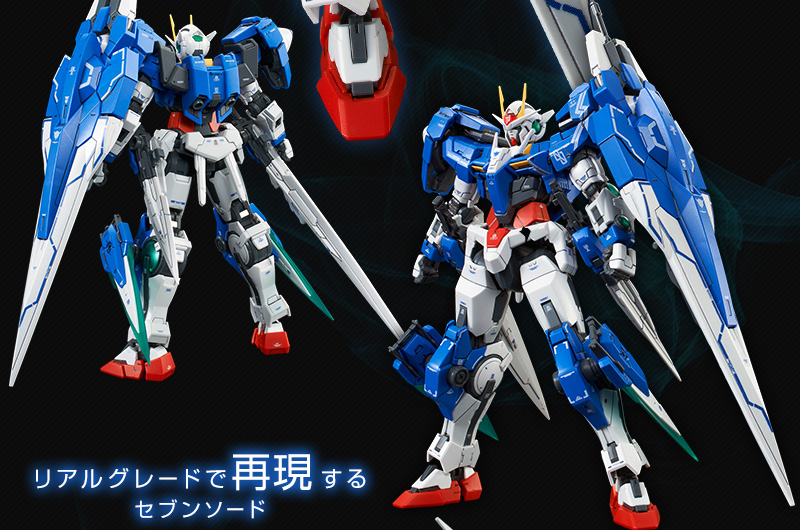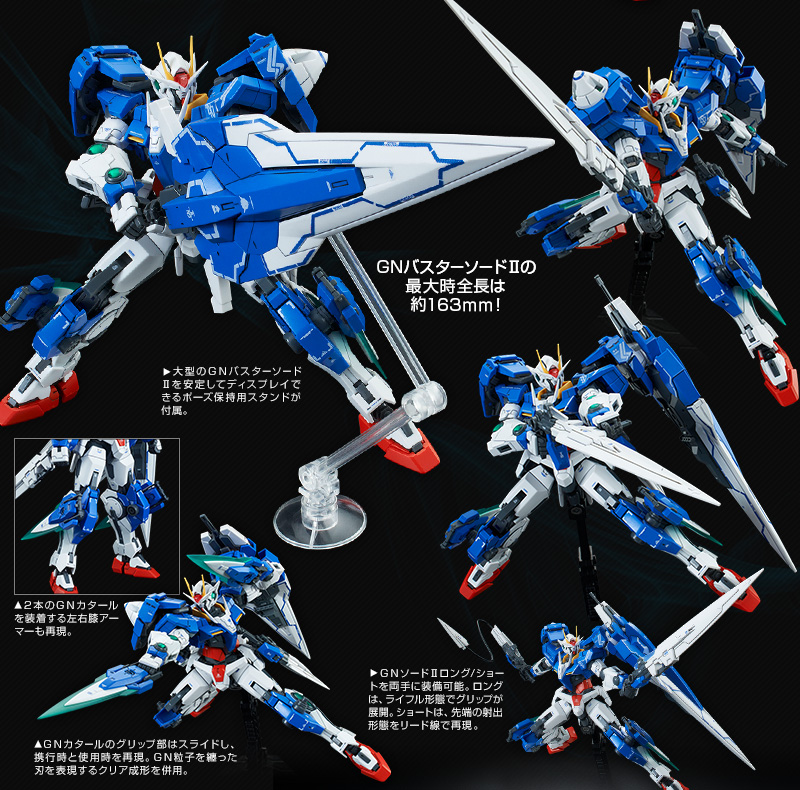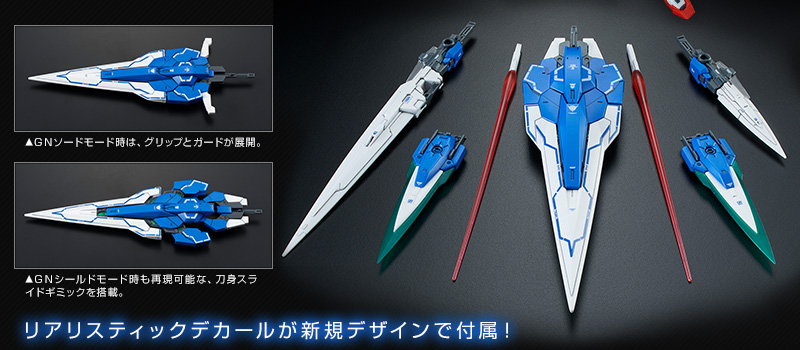 --- 7 swords (SEO over de) the instrumentation Bei was da b le Orbit ---
From "Mobile Suit Gundam 00V", the double Gundam Seven Sword toting a seven Sword,
Commercialization in the RG series which investigated the "realistic" in not seeing the kind with fine representation 1/144.
In addition to the shared equipment GN beam saber of the Gundam,
Armed, such as GN Buster Sword Ⅱ / GN Sword Ⅱ Long / GN Sword Ⅱ Short / GN Qatar
Thorough reproduced in the new shape of the RG-compliant! !

SEVEN SWORD Seven Swords ------
● GN BUSTER SWORDII [GN Buster Sword II]
Blade slide mechanism, equipped with a grip slide mechanism, deformation in both forms of the GN shield mode and GN Sword mode.
It can be equipped with the GN DRIVE portion and the arm portion.
Up to the time of the full-length about 163mm.
Large GN Buster Sword II stable and comes with a stand for the pose holding that can display.
● GN SWORD II LONG [GN Sword II Long]
When carrying is mounted on the right hip. Grip is deployed in rifle form.
● GN SWORD II SHORT [GN Sword II Short]
While carrying, short to be mounted to the left waist, reproduced in the lead the injection form of a tip.
● GN KATAR [GN Qatar]
Reproduced in clear parts of the blade was wearing a GN particles. Other that can be carried to the left and right legs, grip and slide deployment, can be equipped with a hand-held.
Left and right knee armor to mount the two GN Qatar reproducibility.
● GN BEAM SABER [GN beam saber]
Two carry to the waist. Beam portion is reproduced with clear parts.

★ realistic decals comes in a new design!

It comes armed:
GN Buster Sword Ⅱ / GN Sword Ⅱ Long / GN Sword Ⅱ Short / GN Qatar / GN beam saber
-----------------------------------------
1/144 scale prefabricated plastic model
Age: 15 years old or more
Product material: PS · PP · ABS · PVC
And adhesives are not used in assembly
-----------------------------------------