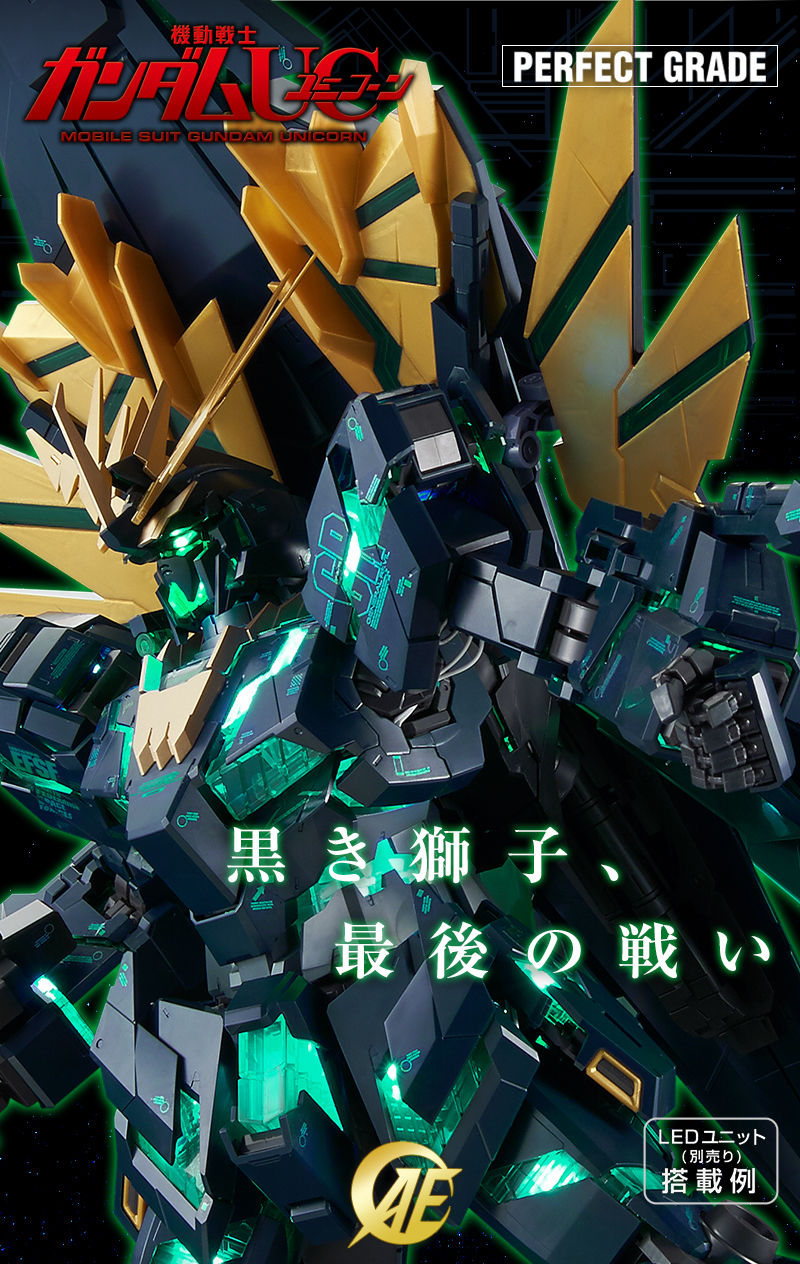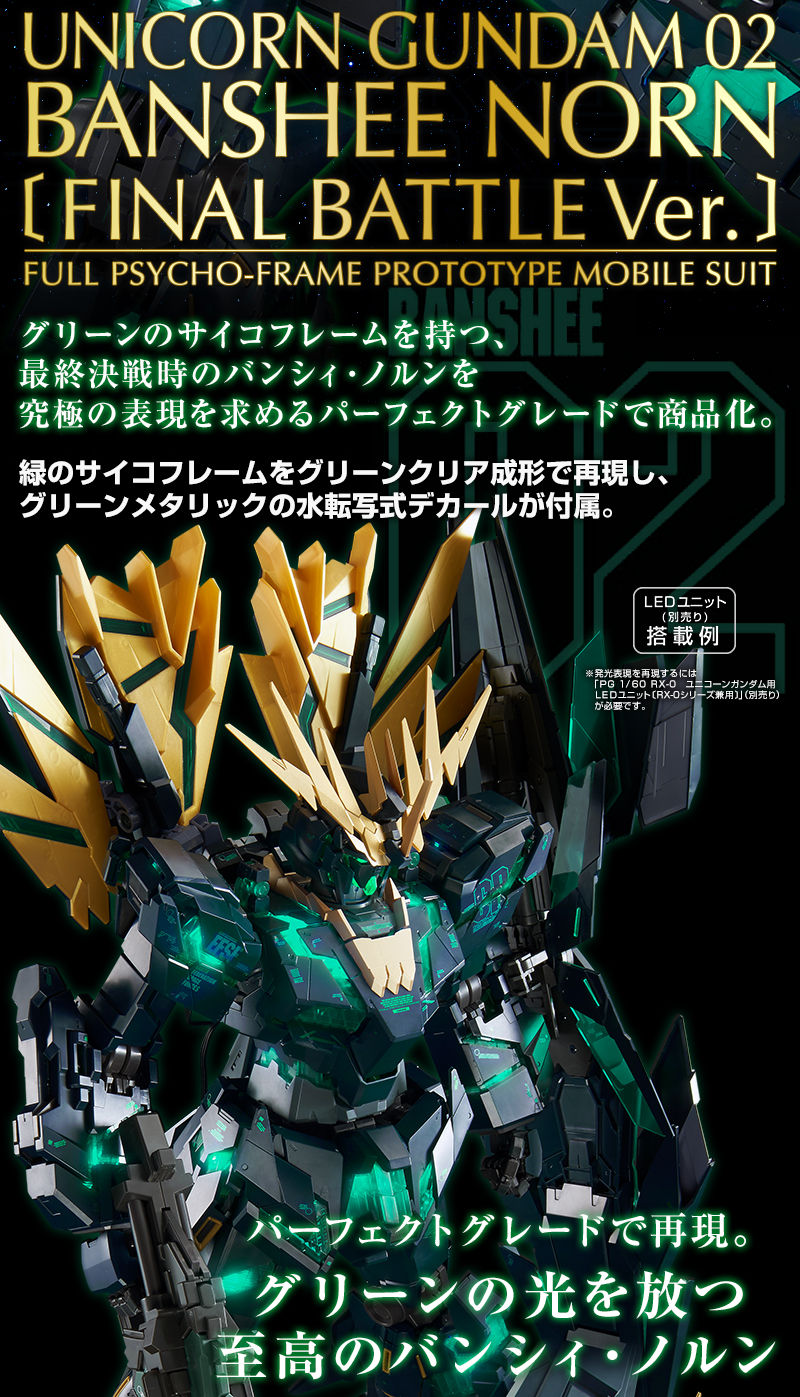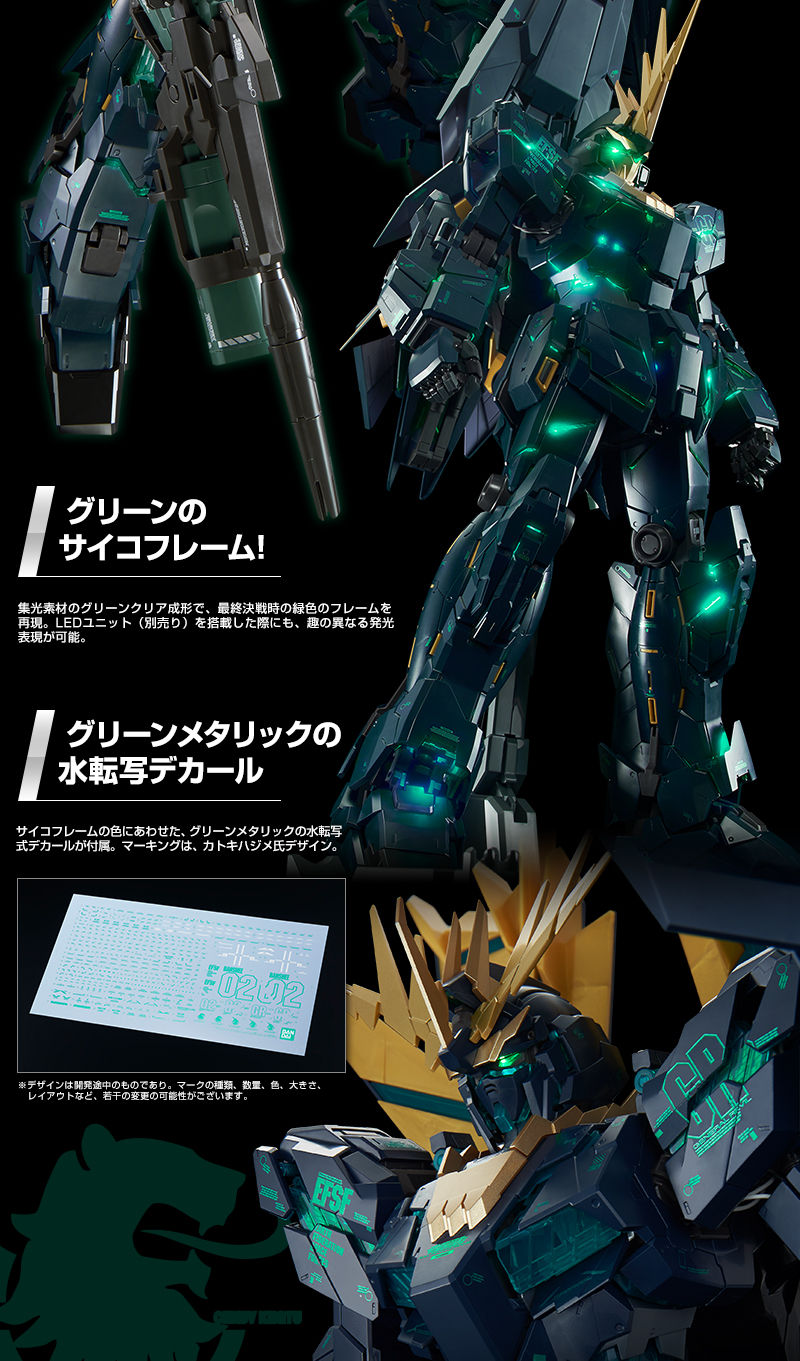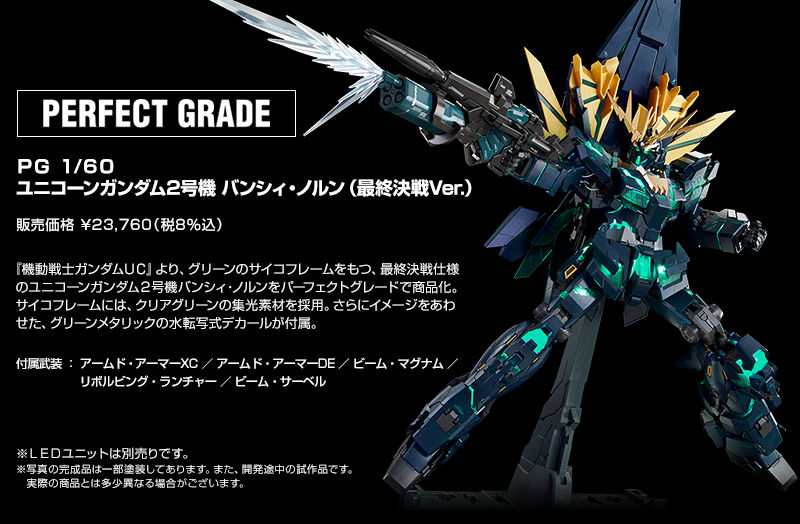 Translate Description:
LED set sold separately.
--------------
Banky Norr reappears in the perfect grade
F I N A L B A T T L E V e r.
--------------

Black lion, the final battle. In case
The highest level of bunches and luminescence that emits green light

From "Mobile Suit Gundam UC", Banshi Norn at the final battle with green psycho frame
Commercialized with perfect grade seeking the ultimate expression.

Green psycho frame is reproduced by green clear molding, green metal metallic water transfer type decal is attached.

● Psycho Frame of Green!
The green clear molding of converging material reproduces the green frame at the final battle.
Even when equipped with an LED unit (optional), different lighting expressions are possible.

- Decal of green metallic is attached!
A water transfer type decal of green metallic is attached according to the color of the psycho frame.
Marking is designed by Mr. Kataki Hajime.
Adopted the design drawn up by Mr. Kataki Hajime on "PG 1/60 Expansion Unit Armed Armor VN / BS".

Attached armed:
Armed Armor XC / Armed Armor DE / Beam Magnum / Revolving Launcher / Beam Saber

★ ★ interlocked item information (sold separately) ★ ★

NT-D activation! Let's enjoy light expression of psycho frame with the LED unit!
"PG 1/60 RX-0 LED Unit for Unicorn Gundam [Shared with RX-0 Series]" (not included)
It is on sale well at the shops at the Gunpla Handling Store nationwide!

Further check ♪
In conjunction with this product launch, premium Bandai is also accepting application for resale! ※ There are limited numbers.
(Register your application on a separate page!)

-----------------------------------------
1/60 scale assembly model model
Target age: 15 years old and over
Product material: PS · PE · ABS · POM · PP
· Adhesive is not used for assembly
-----------------------------------------
NOTE: Shipping fee calculated by weight, Charges after release.