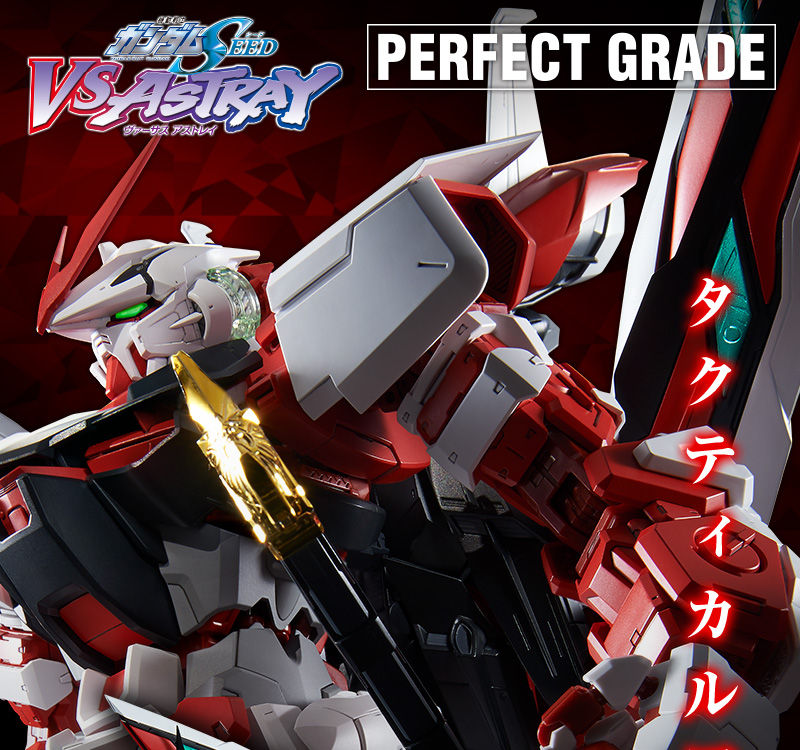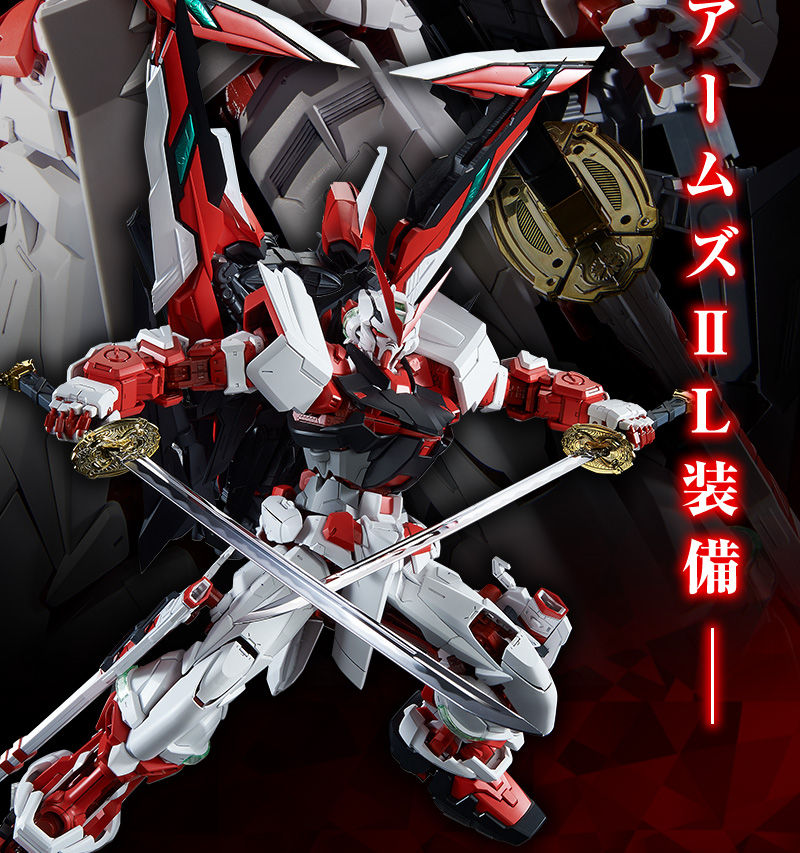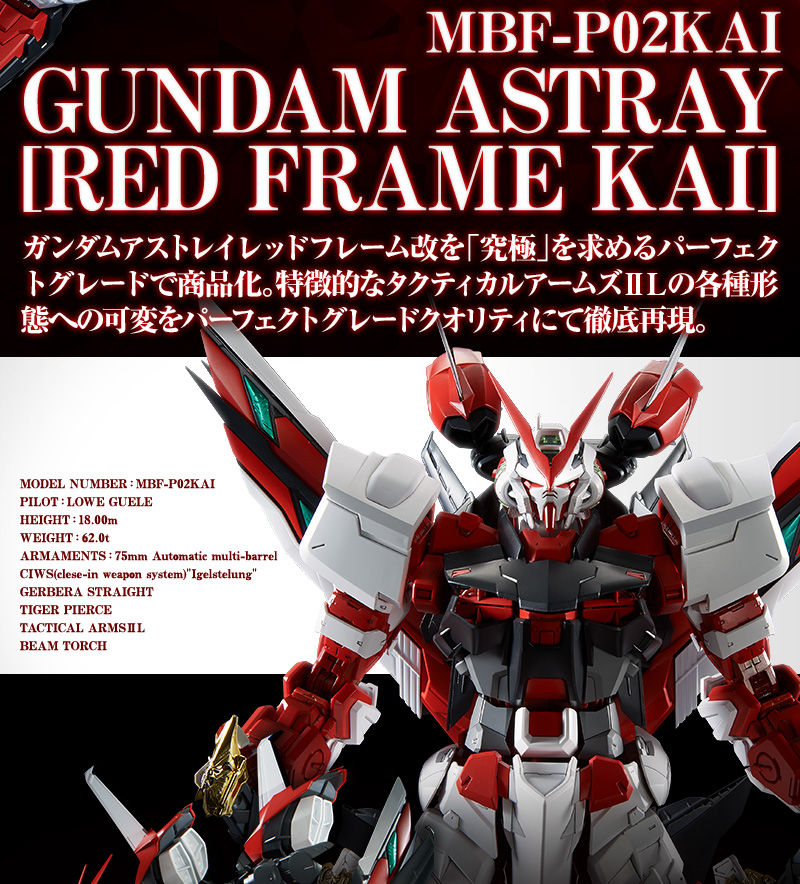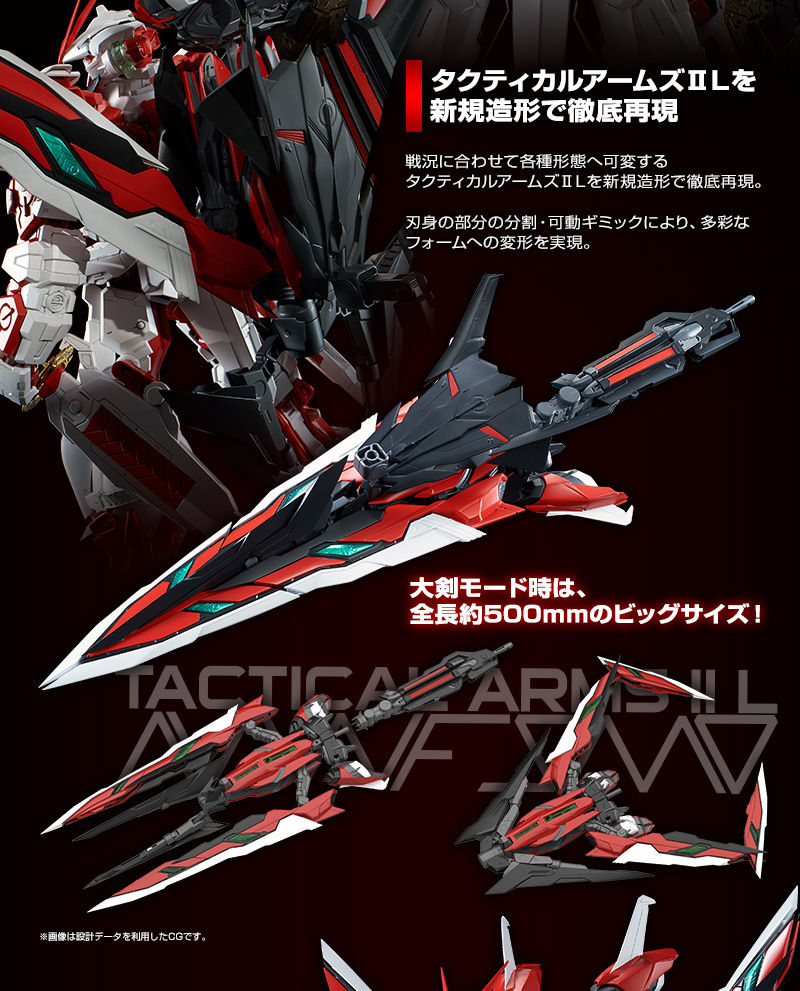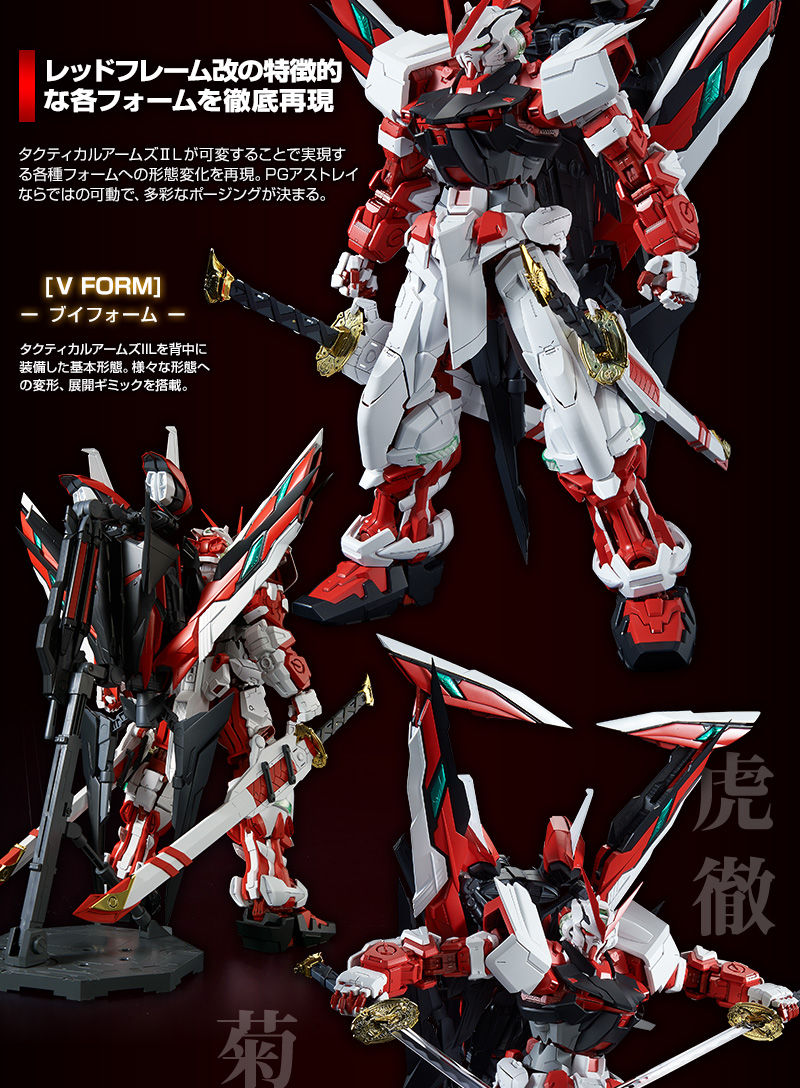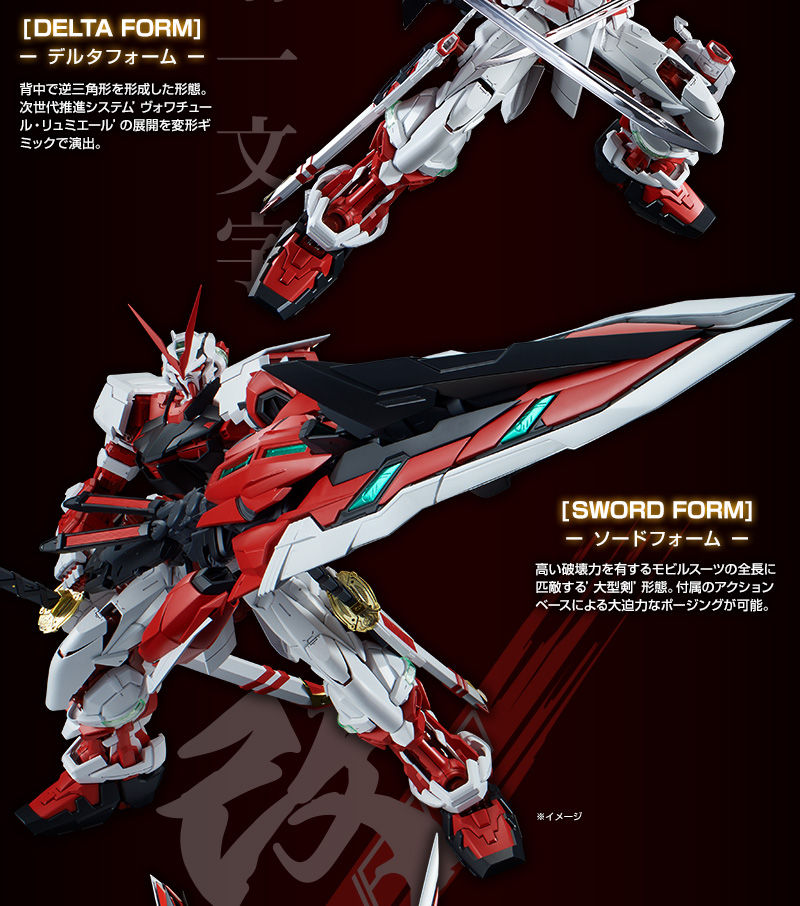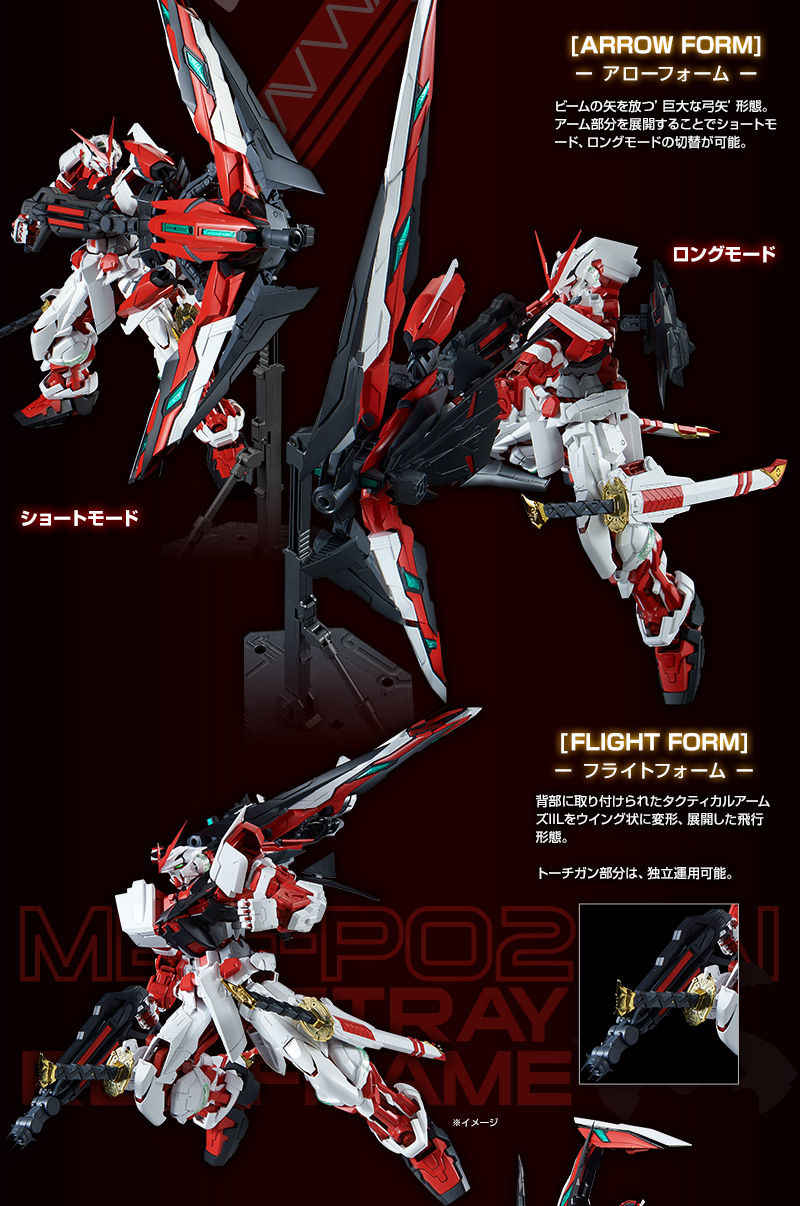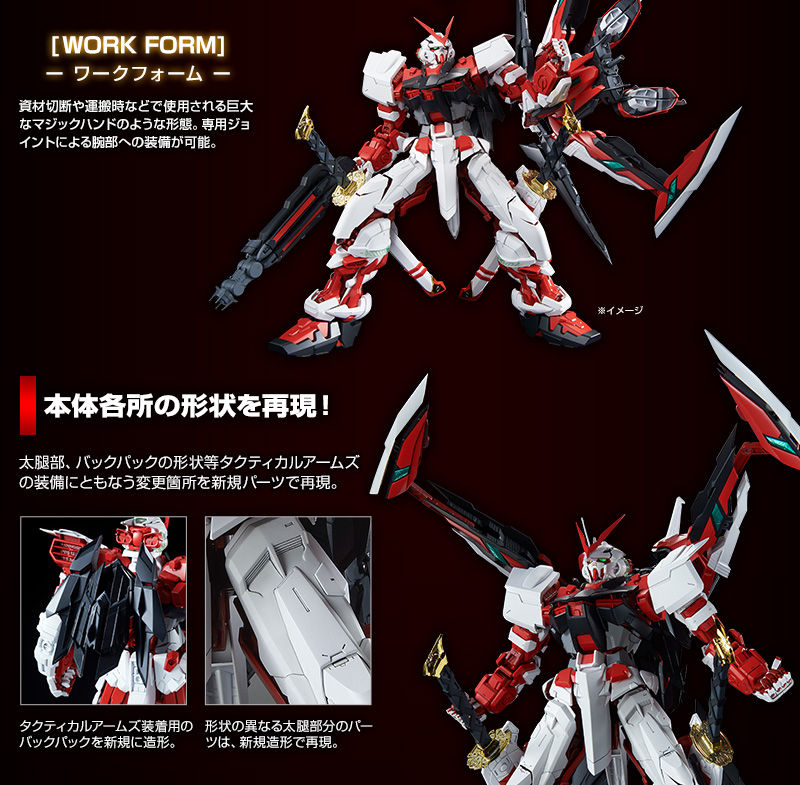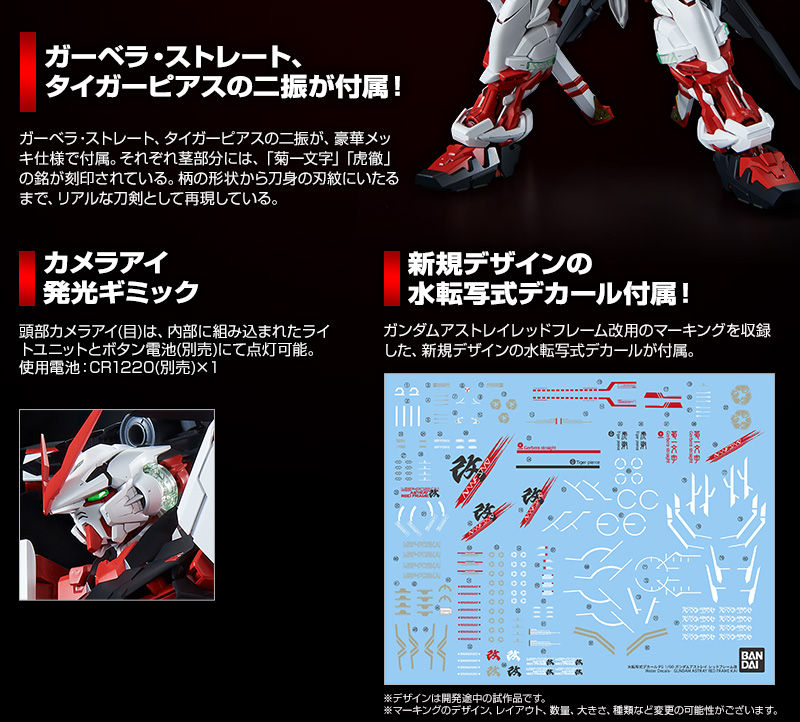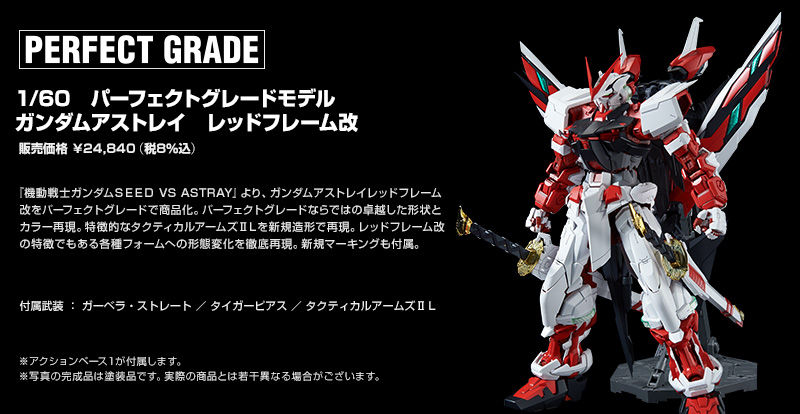 Translate Description:
--------------
Reproduce with the perfect grade,
Gundam Astray Red Frame Revision
--------------
Large equipment Tactical Arm Ⅱ L Equipment -
M B F - P 0 2 K A I GUNDAM ASTROADED FRAME REMEMBER
Gundam Astray Redframe commercialization with perfect grade seeking the ultimate.
Variable to various forms of characteristic Tactical Arms II L is thoroughly reproduced with perfect grade quality.
● Tactical Arms IIL is thoroughly reproduced by new shaping!
Tactical Arms Ⅱ L which changes to various forms according to the situation of the war are thoroughly reproduced by new modeling.
In big sword mode, big volume of about 500 mm in length.
● Reproduce the distinctive forms of red frame reform!
Tactical Arm Ⅱ L is changed to reproduce the form change to various forms realized.
It is movable unique to PG Astray, and various poses are decided.
[V FORM] - buoform -
Basic form equipped with Tactical Arms IIL on the back. Deformation to various forms, deployment gimmick is loaded.
[DELTA FORM] - Delta Form -
Form in which an inverted triangle is formed on the back. Produce the development of the next generation propulsion system 'Voiture · Lumiere' in a modified gimmick.
[SWORD FORM] - Sword form -
A 'large sword' form comparable to the full length of mobile suits with high destructive power.
Posing is possible with the attached action base.
[ARROW FORM] - Arrow Form -
A 'huge bow and arrow' form that shoots a beam arrow. By unfolding the arm,
Switching between short mode and long mode is possible.
[FLIGHT FORM] - Flight form -
Tactical Arms IIL attached to the back was deformed and expanded in wing shape and flying form.
The torch gun part can be operated independently.
[WORK FORM] - Work form -
It is like a huge magic hand used for material cutting and transportation. Equipped with a dedicated joint on the arm.
● Reproduce the shape of each part of the body!
Thigh part, shape of backpack etc. The changed part accompanying the equipment of Tactical Arms is reproduced with new parts.
Newly designed backpack for mounting tactical arms.
Parts of different thighs are reproduced by new shaping.
● Gerbera · straight, comes with 2 shakes of Tiger Earrings!
Gerbera · straight, 2 shakes of Tiger Earrings are included with gorgeous plating specifications.
In each stalk part, the inscriptions of "one chrysanthemum" and "Tora toru" are stamped.
From the shape of the handle to the blade of the blade, it is reproduced as a real sword.
- New design water transfer type decal included!
Gundam Astray comes with a newly designed water transfer type decal containing a marking for red frame reform.
● Camera eye emission
Head camera Eye (eye) can be lit by internal light unit and button battery (sold separately).
Battery used: CR 1220 (sold separately) × 1
Attached Armor: Gerbera · Straight / Tiger Earrings / Tactical Arms Ⅱ L
Attachment: Action Base 1
-----------------------------------------
1/60 scale Assembly type Plastic model
Target age: 15 years old and over
Main product materials: PS · PE · PP · ABS · PUR · TPE
· Adhesive is not used for assembly
-----------------------------------------
* Use the + (plus) screwdriver (sold separately) for this kit.
* CR 1220 (sold separately) × 1 is required for camera eye emission.