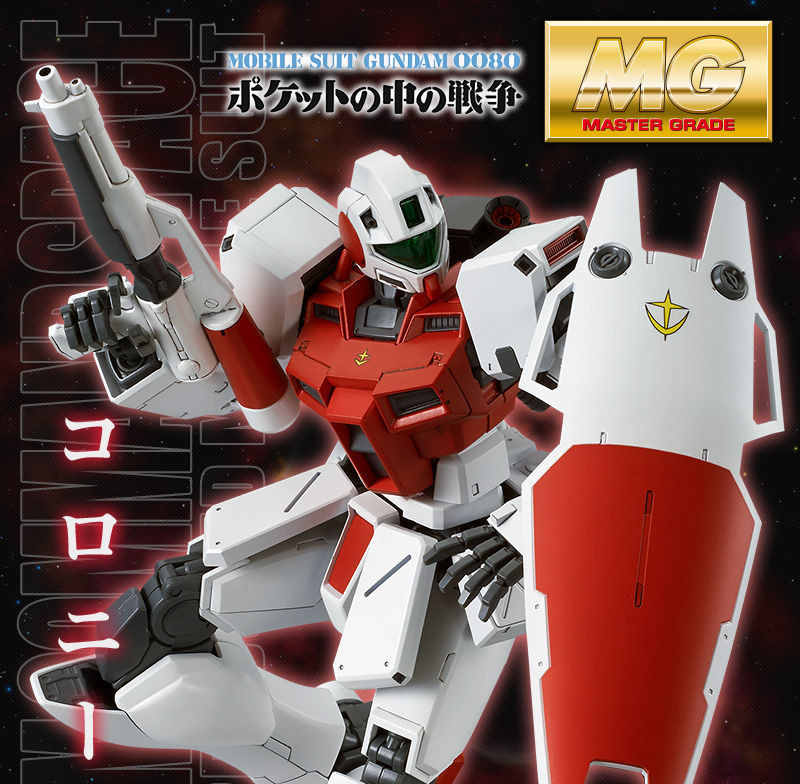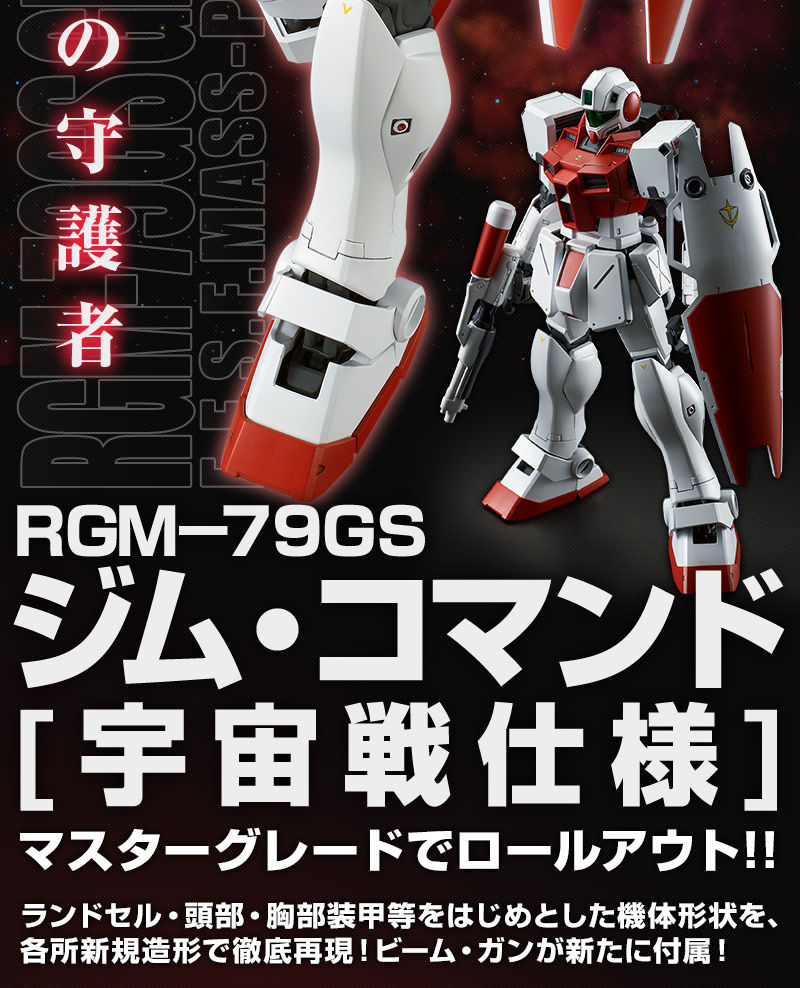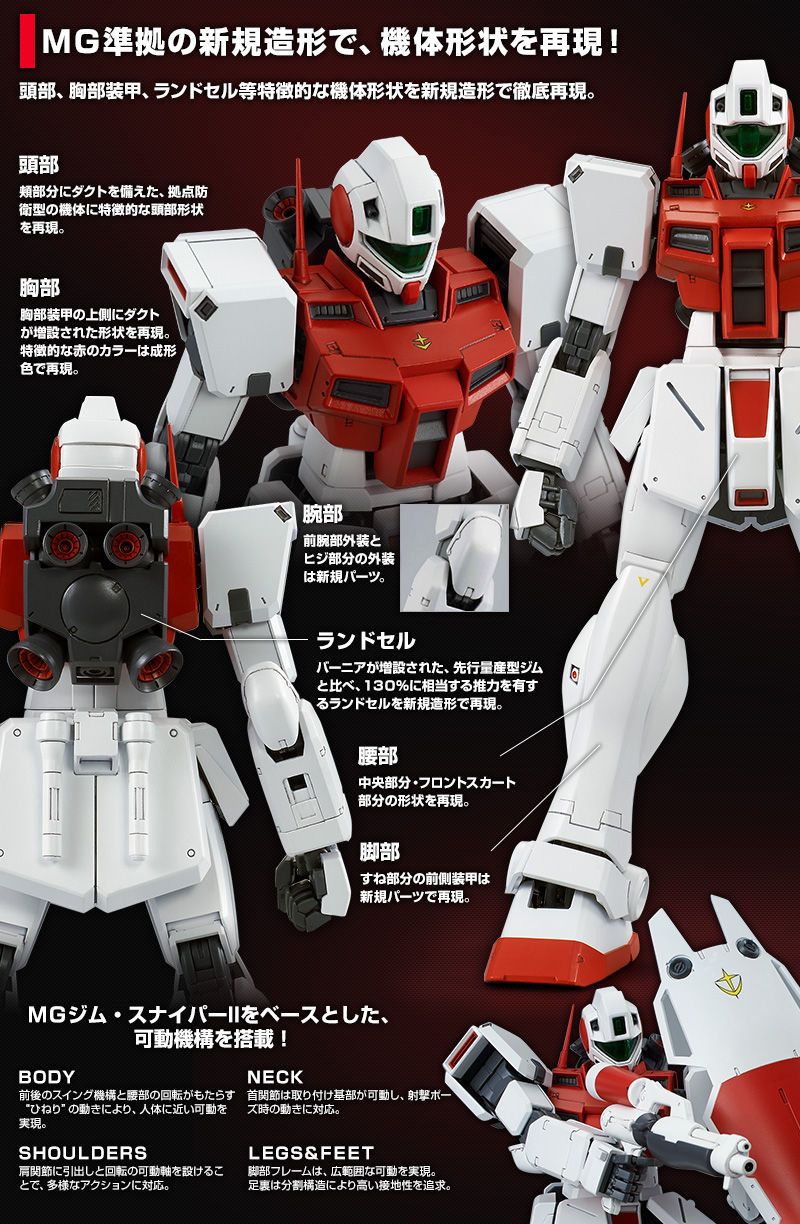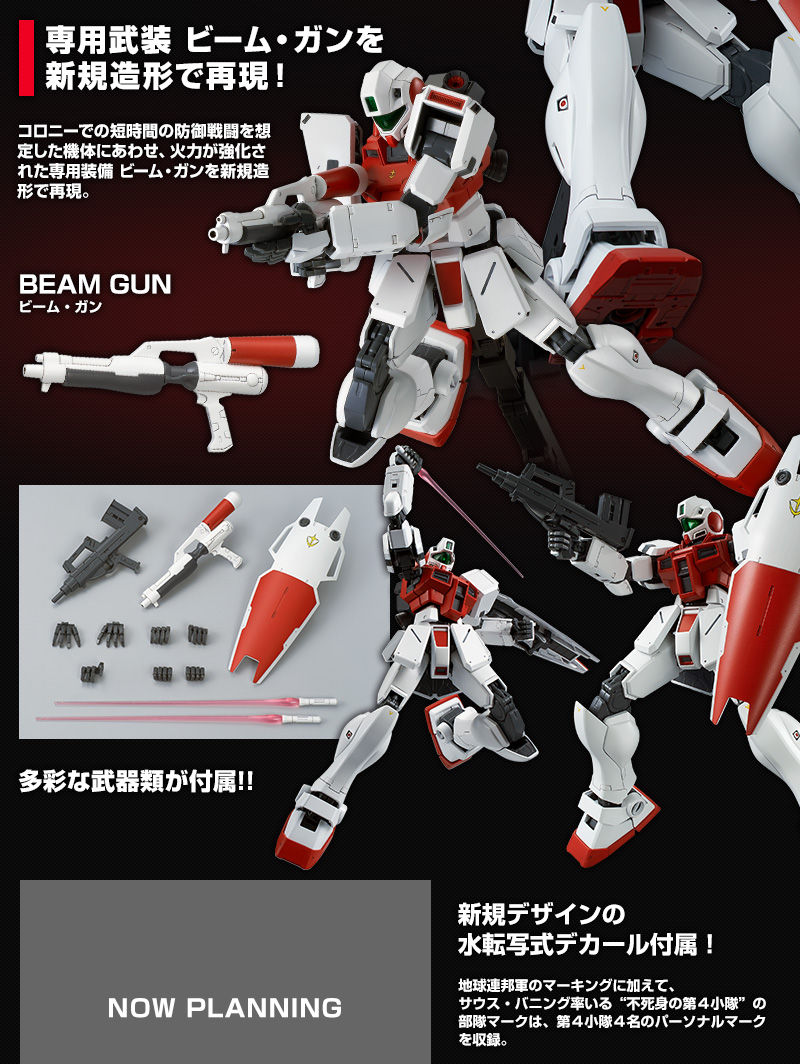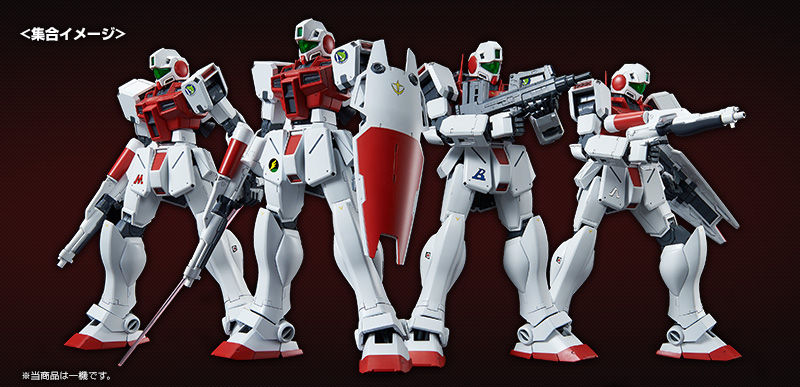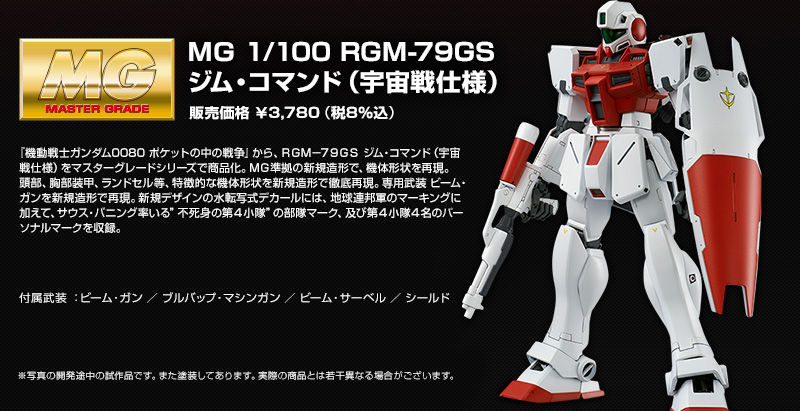 Colony's guardian - rolled out in the master grade series!

From "Mobile Suit Gundam 0080 War in the Pocket"
RGM-79GS Jim · Commercial (Space Warfare Specification) commercialized in master grade series.

Aircraft shapes including the school bag, head, thorax armor etc are thoroughly reproduced with various new shapes! Beam gun is also newly included!

● MG-compliant new modeling, reproduce the body shape!
The head, chest armor, school bag, etc. are reproduced thoroughly with characteristic shapes of the aircraft.

【Head】
Reproduce the head shape characteristic of the base defense type aircraft equipped with a duct on the cheek part.

【Chest】
A duct is added to the thorax armored part to reproduce the shape. Distinctive red color is reproduced by molding color.

【Arms】
Forearm part exterior, and exterior of the hen part are new parts.

【school bag】
Compared with the leading mass production type gym, the newly formed school bag with vernier increased, which has thrust equivalent to 130%, is reproduced.

[Lower part]
Reproduce the shape of the central part · front skirt part.

【Legs】
The front armor of the shin portion is reproduced with new parts.
● MG It's based on Jim Sniper II, with a moving mechanism!
【BODY】 Movement close to the human body is realized by the movement of "twist" caused by rotation of the front and rear swing mechanism and waist.
【NECK】 The base of the neck is movable, corresponding to movement during shooting pose.
【SHOULDERS】 Corresponding to various actions by providing a movable axis of drawer and rotation on the shoulder joint.
【LEGS & FEET】 The leg frame realizes a wide range of motion. The sole pursues high grounding by the split structure.
● Dedicated armed beam · Gun reproduced with new modeling!
According to the aircraft that was assumed for a short period of time defense fighting in the colony, reproduce the dedicated equipment beam gun that fired has been enhanced with the new shape.
Besides that, a variety of weapons are included!
● New design water transfer type decal included!
In addition to the marking of the Earth Federation Army, a unit mark of "Immortal Fourth Platoon" led by South Banning,
And four personal platoons of four platoons.

~~~~~
ACE PILOT LOG Ace · pilot log [U.C. ed.]
"Ace · pilot" and MS plan the web logs (records) carved into the history of the universe century, WEB plan!

VOL.03 "Fourth Platoon of Immortality" Posted!
~~~~~

Attached armed: Beam · Gun / Bull bap · Machine gun / Beam · Saber / Shield

-----------------------------------------
1/100 scale assembled plastic model
Target age: 15 years old and over
Product material: PS · PE
· Adhesive is not used for assembly
-----------------------------------------