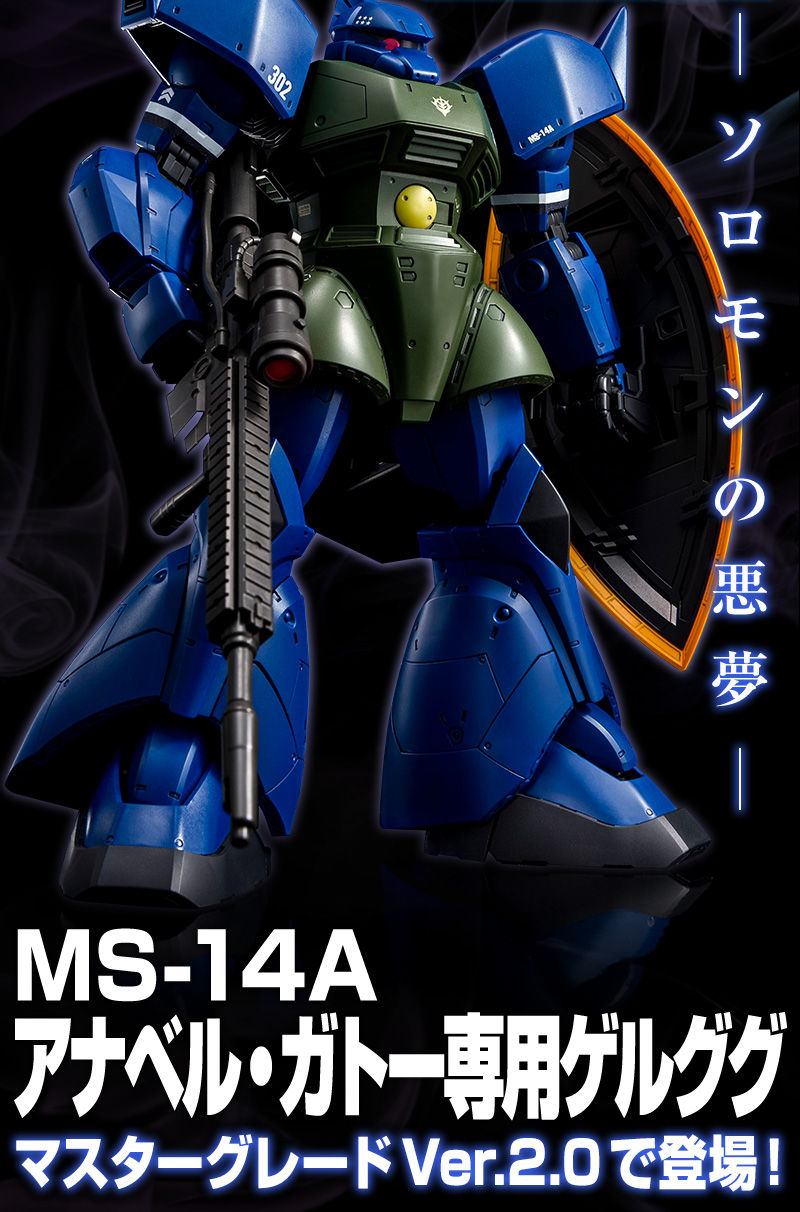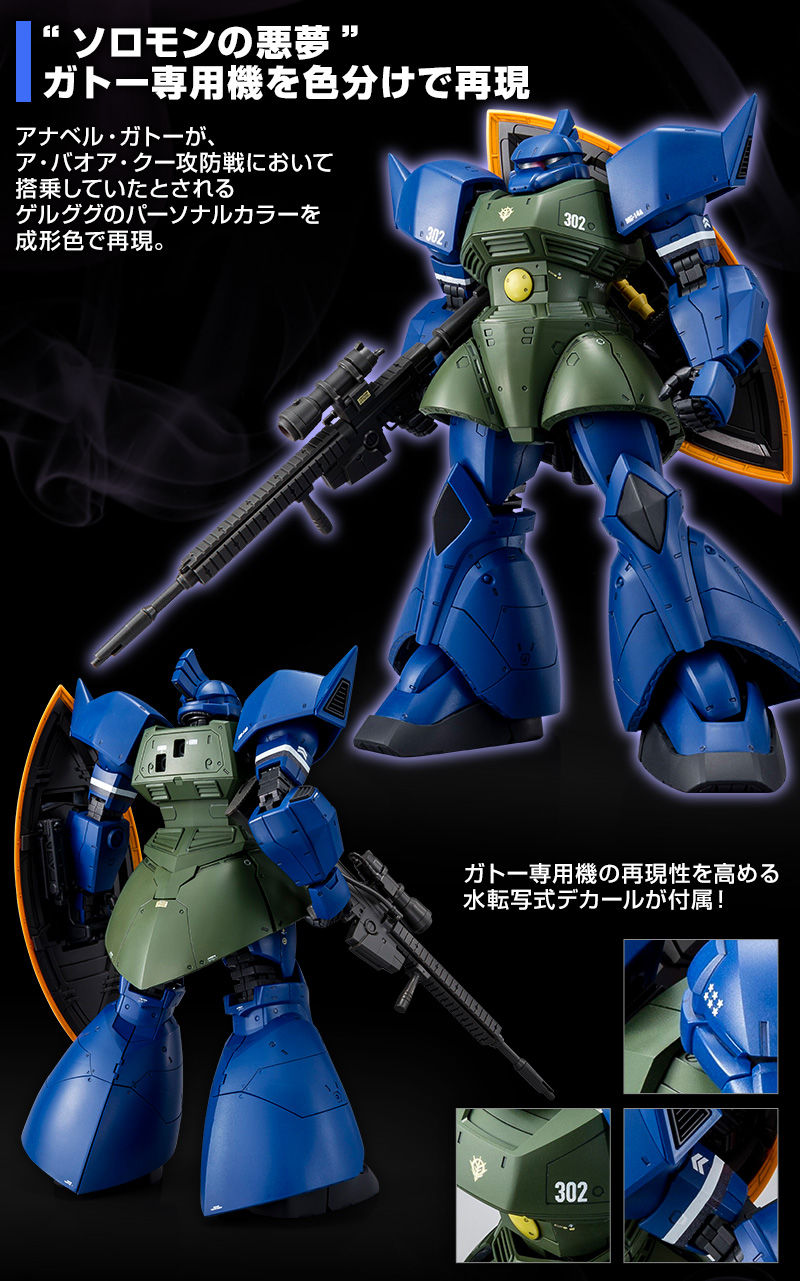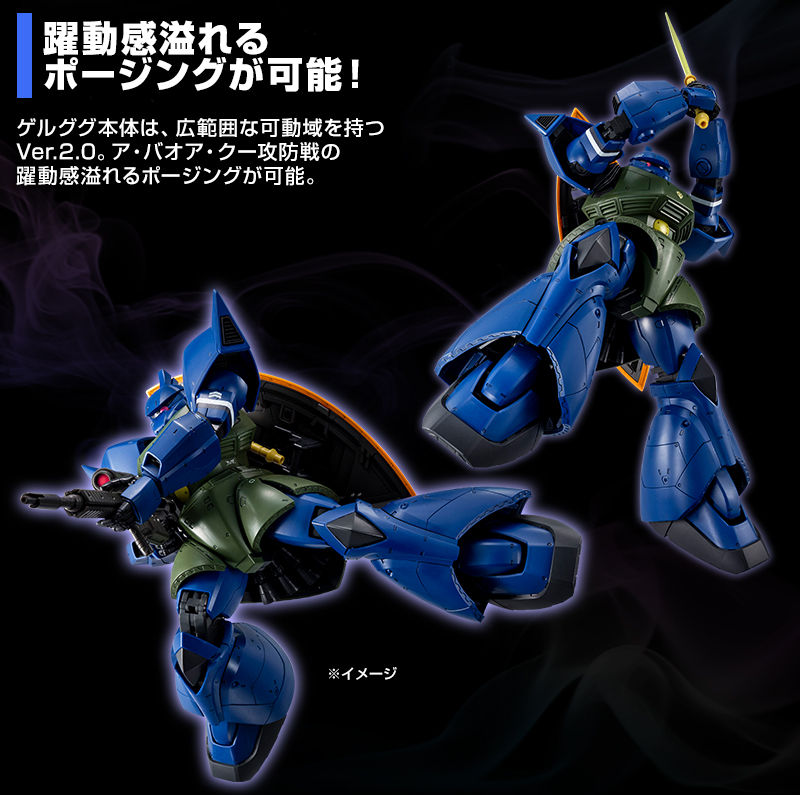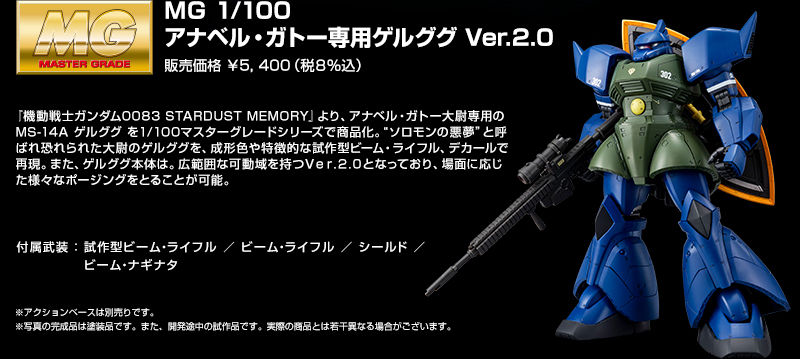 Translate Description:
- Solomon's evil dream -
MS-14A Annabel Gateau exclusive gel gel master grade Ver.2.0 appearance!
From "Mobile Suit Gundam 0083 STARDUST MEMORY", A Baoa · Ku Battle Battlefield Battle
Captured by Captain Anabel-Gateau MS-14A Gerghog is commercialized with master grade Ver.2.0.
● 'Solomon's Nightmare' Gateau exclusive machine is reproduced with color coding
Annabel · Gateau, in the battle against A · Baa · Ku
Reproduced in personalized color of gel gel, which is said to have been on board.
Also included is a water transfer type decal that enhances the reproducibility of Gateau specialty machines.
● Reproduce distinctive armed!
Besides beam rifle, shield, beam / naginata, prototype beam rifle is included.
Characteristic prototype beam rifle can be hand held, holding one hand and giving it according to the scene.
Beam · Naginata set two types of blades according to usage. In case
● Posing full of lively dynamics possible!
The gel gel main body has a wide range of motion Ver. 2.0.
Posing full of dynamism in battle against A · Baa · Ku is possible.
Attached armed: prototype beam · rifle / beam · rifle / shield / beam · naginata
~~~~~
ACE PILOT LOG Ace · Pilot Log [U.C. Edition]
"Ace pilot" and MS plan, WEB plan tracing "log (record)" carved in the history of the century of the universe!
In case
VOL.07 "Annabel · Gateau" is on sale! (Http://bandai-hobby.net/site/sitepilot/)
~~~~~
-----------------------------------------
1/100 scale assembly plastic model
Target age: 15 years old and over
Main product material: PS / PE / ABS
· Adhesive is not used for assembly
-----------------------------------------