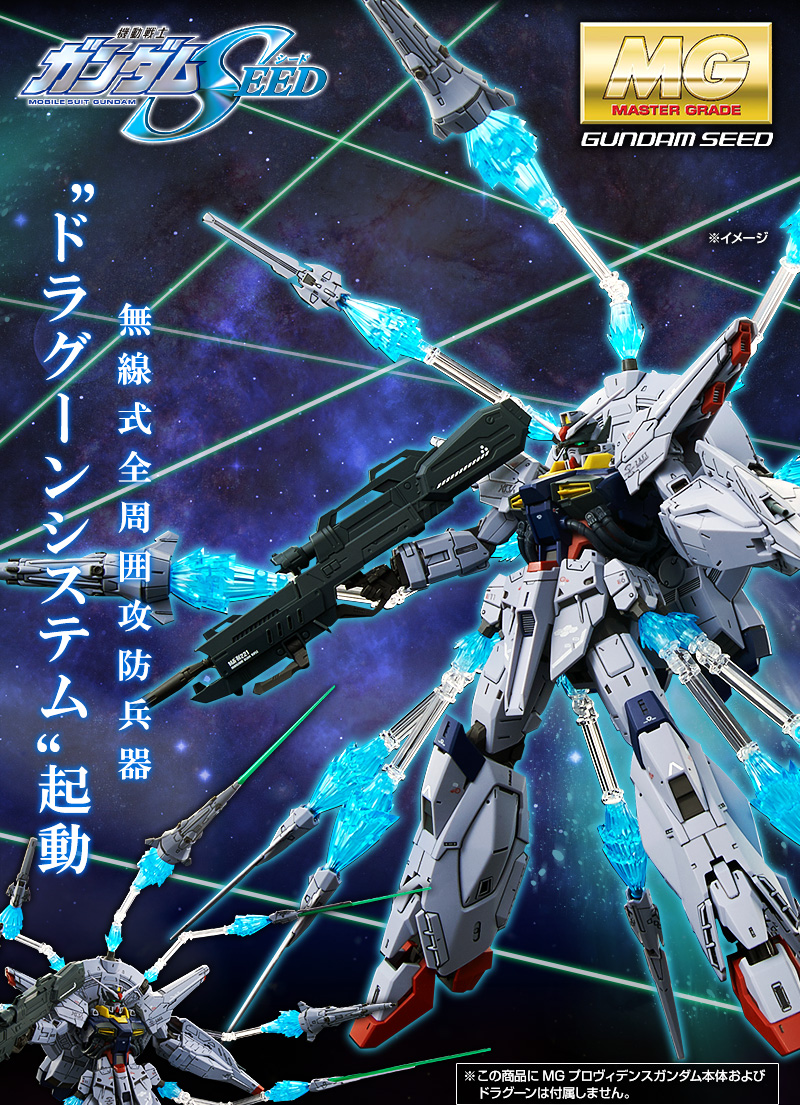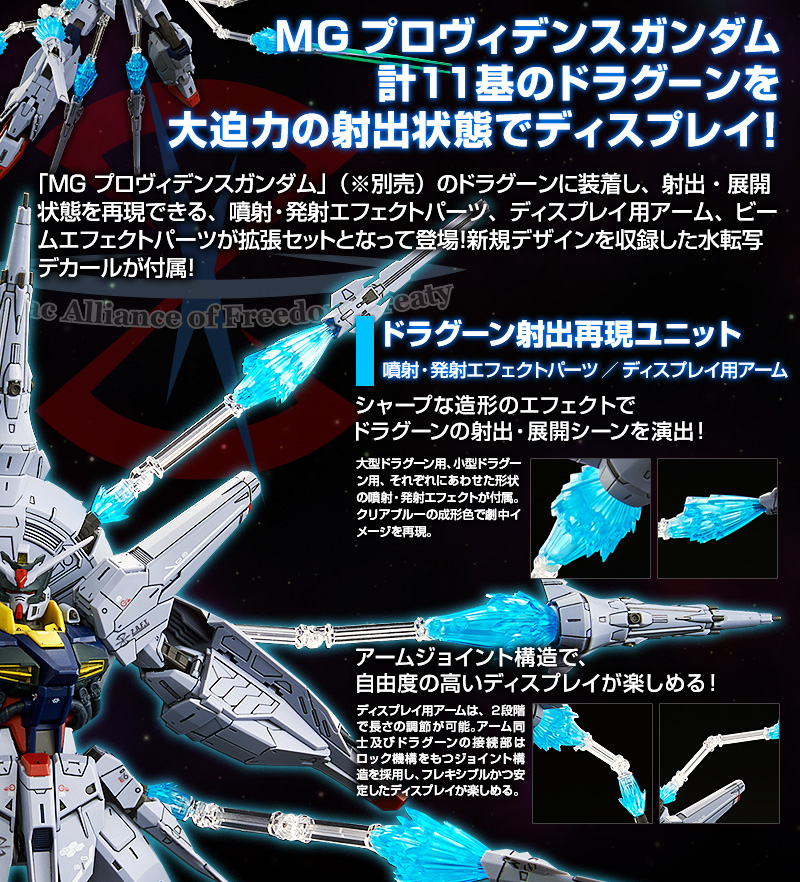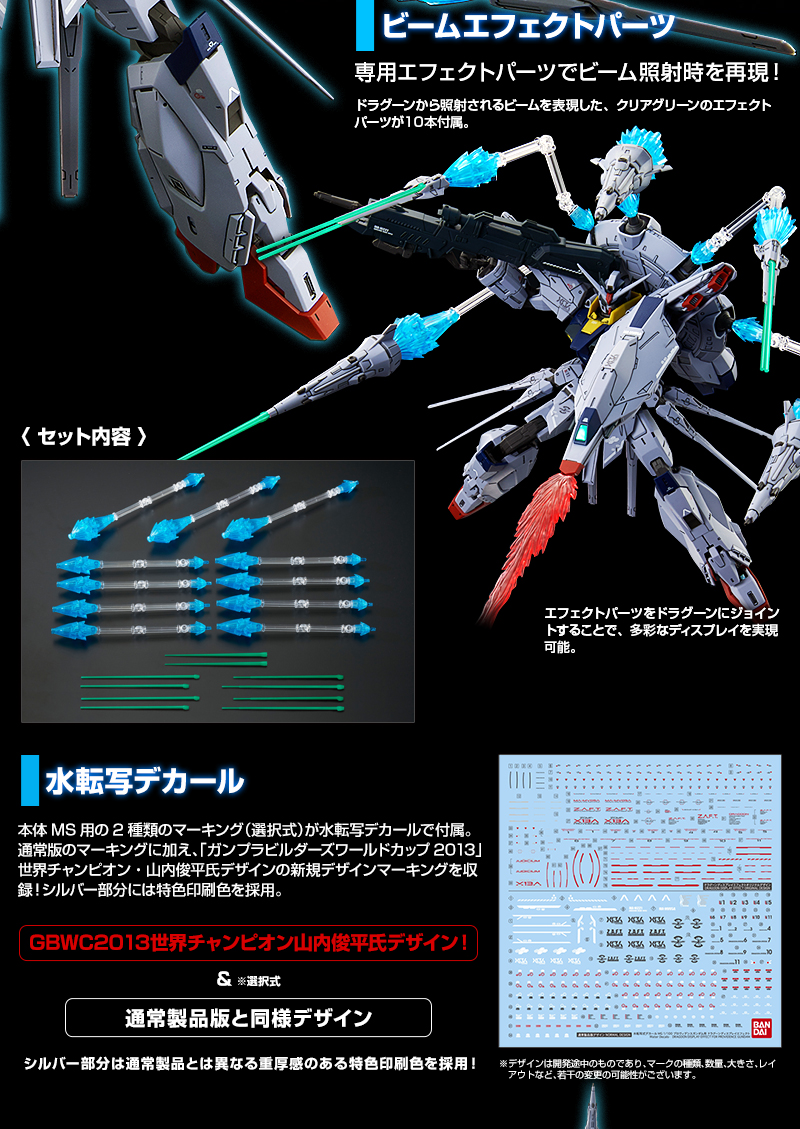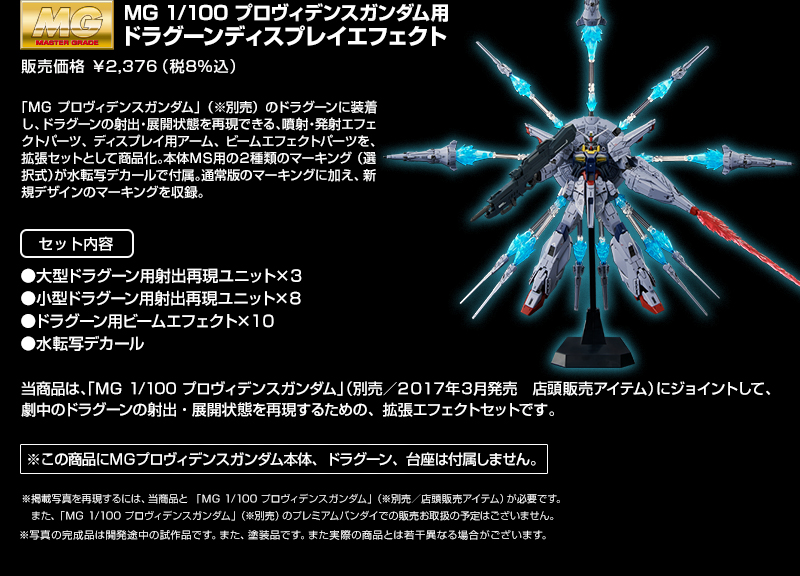 ----
Wireless all-round battle weapon

- Drag system start -

MG Providence Gundam Total 11 dragons are displayed in a large force injection state!
----
It is attached to the dragoon of "MG Providence Gundam" (※ sold separately)
Reproduce the injection / deployment state, spray and launch effect parts, display arm,
Beam effect parts appear as expanded sets! Water transfer decal with new design included!
◆◆ Dragoon Injection Reproduction Unit (Injection / Launch Effect Parts / Arm)

· Produce dragoon's injection / deployment scene with sharp modeling effect!
For large dragoon and small dragoon, jet and launch effects of each shape are attached.
Reproduce the image in play with the molding color of clear blue.

- Arm joint, you can enjoy high freedom display!
The length can be adjusted in the stage. The connection between the arms and the dragoon adopts a joint structure having a lock mechanism,
You can enjoy a flexible and stable display.

◆ ◆ Beam Effect Part for Dragoon

· Reproduction of beam irradiation with exclusive effects parts!
Five pieces of clear green effect parts that express the beam irradiated from the dragoon are attached.
Various displays can be realized by jointly connecting effect parts to dragoon.

◆ ◆ Water Transfer Decal

· Two types of markings for main body MS (selectable) are included with the water transfer decal!
In addition to the regular version of marking, "Gundam Model Kits World Cup 2013"
New design marking of world champion Shunpei Yamauchi design is included.

< set content >
· Injection Reproduction Unit for Large Dragoon × 3
· Injection reproduction unit for small dragoon × 8
· Beam effect parts × 5
· Water Transfer Decal

-----------------------------------------

This product is jointed to "MG 1/100 Providence Gundam" (sold separately / retail item sold in March, 2017 released)
It is an extension effect set for reproducing the injection / deployment state of the dragoon in the play

※ This product MG Providence Gundam body, Dragoon, pedestal is not included.
※ In order to reproduce the published photographs, this product and "MG 1/100 Providence Gundam" (sold separately / over-the-counter items) are required.
Also, there is no plan to sell the "MG 1/100 Providence Gundam" (sold separately) at Premium Bandai.

-----------------------------------------
1/100 scale assemble plastic model
Target age: 15 years old and over
Main product material: PS · ABS
· Adhesive is not used for assembly
-----------------------------------------